Reset Last Operation Time¶
Description¶
The Hive system maintains a timer for every key that measures the number of seconds elapsed since the last operation. This operation resets the timer to zero seconds.
Method¶
Backendless

.

Hive

(

hiveName

).

StoreType

().

touch

(

keys

);



where:
| Argument | Description |
| --- | --- |
| hiveName | Name of a hive where the operation is performed. String value. |
| StoreType | This placeholder must be substituted with one of the following stores types: KeyValueStore, ListStore, MapStore, SetStore, SortedSetStore. |
| keys | An array of key names for which to reset last operation time. Must be an array of string values. |
Return Value¶
The number of reset timers.
Example¶
The example below resets time since the last operation of the "fruits" and "vegetables" keys to 0.
List

<

String

>

 

keys

 

=

 

new

 

ArrayList

<>

();




keys

.

add

(

"fruits"

);




keys

.

add

(

"vegetables"

);





Backendless

.

Hive

(

hiveName

).

ListStore

().

touch

(

keys

);



where:
| Argument | Description |
| --- | --- |
| "groceryStore" | Name of a hive where the operation is performed. |
| "fruits","vegetables"["fruits","vegetables"] | The array of keys in the store to reset time since the last operation. |
Codeless Reference
¶
where:
| Argument | Description |
| --- | --- |
| hive name | Name of a hive where the operation is performed. |
| type | Storage type, can be one of the following: Key / Value, Sorted Set, Set, Map, List. |
| keys | A list of key names to reset last operation time for. |
Consider the following Key Value storage: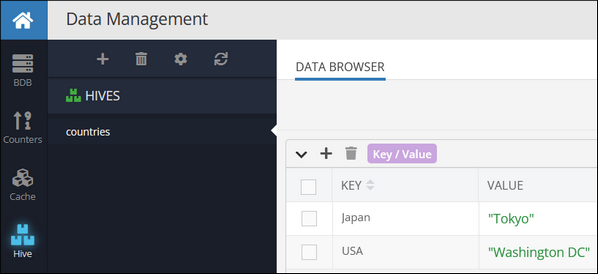 The example below resets time since the last operation for the specified keys: