Inverted Relation Retrieval¶
Backendless supports a special query syntax for loading a subset of child objects for a specific parent. Consider the following table schemas:
PhoneBook table:

Contact table: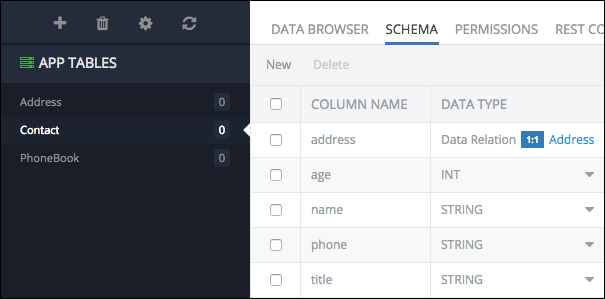 Address table:

These tables will be used to demonstrate how to query Backendless for conditional related object retrieval.
The Map-based approach does not require you defining classes for the objects stored in Backendless. Instead your code can use java.util.Map to to store and retrieve objects in/from Backendless. === "Custom Class"
Consider the following class definitions for the entities from the diagram: PhoneBook class:
package

 

com.sample.entity

;





import

 

java.util.List

;





public

 

class

 

PhoneBook




{




  

private

 

String

 

objectId

;




  

private

 

Contact

 

owner

;




  

private

 

List

<

Contact

>

 

contacts

;





  

public

 

String

 

getObjectId

()




  

{




    

return

 

objectId

;




  

}





  

public

 

void

 

setObjectId

(

 

String

 

objectId

 

)




  

{




    

this

.

objectId

 

=

 

objectId

;




  

}





  

public

 

Contact

 

getOwner

()




  

{




    

return

 

owner

;




  

}





  

public

 

void

 

setOwner

(

 

Contact

 

owner

 

)




  

{




    

this

.

owner

 

=

 

owner

;




  

}





  

public

 

List

<

Contact

>

 

getContacts

()




  

{




    

return

 

contacts

;




  

}





  

public

 

void

 

setContacts

(

 

List

<

Contact

>

 

contacts

 

)




  

{




    

this

.

contacts

 

=

 

contacts

;




  

}




}



Contact class:
package

 

com.sample.entity

;





import

 

java.util.Date

;





public

 

class

 

Contact




{




  

private

 

String

 

objectId

;




  

private

 

String

 

name

;




  

private

 

int

 

age

;




  

private

 

String

 

phone

;




  

private

 

String

 

title

;




  

private

 

Address

 

address

;




  

private

 

Date

 

updated

;





  

public

 

String

 

getObjectId

()




  

{




    

return

 

objectId

;




  

}





  

public

 

void

 

setObjectId

(

 

String

 

objectId

 

)




  

{




    

this

.

objectId

 

=

 

objectId

;




  

}





  

public

 

String

 

getName

()




  

{




    

return

 

name

;




  

}





  

public

 

void

 

setName

(

 

String

 

name

 

)




  

{




    

this

.

name

 

=

 

name

;




  

}





  

public

 

int

 

getAge

()




  

{




    

return

 

age

;




  

}





  

public

 

void

 

setAge

(

 

int

 

age

 

)




  

{




    

this

.

age

 

=

 

age

;




  

}





  

public

 

String

 

getPhone

()




  

{




    

return

 

phone

;




  

}





  

public

 

void

 

setPhone

(

 

String

 

phone

 

)




  

{




    

this

.

phone

 

=

 

phone

;




  

}





  

public

 

String

 

getTitle

()




  

{




    

return

 

title

;




  

}





  

public

 

void

 

setTitle

(

 

String

 

title

 

)




  

{




    

this

.

title

 

=

 

title

;




  

}





  

public

 

Address

 

getAddress

()




  

{




    

return

 

address

;




  

}





  

public

 

void

 

setAddress

(

 

Address

 

address

 

)




  

{




    

this

.

address

 

=

 

address

;




  

}





  

public

 

Date

 

getUpdated

()




  

{




    

return

 

updated

;




  

}





  

public

 

void

 

setUpdated

(

 

Date

 

updated

 

)




  

{




    

this

.

updated

 

=

 

updated

;




  

}




}



Address class:
package

 

com.sample.entity

;





public

 

class

 

Address




{




  

private

 

String

 

street

;




  

private

 

String

 

city

;




  

private

 

String

 

state

;





  

public

 

String

 

getStreet

()




  

{




    

return

 

street

;




  

}





  

public

 

void

 

setStreet

(

 

String

 

street

 

)




  

{




    

this

.

street

 

=

 

street

;




  

}





  

public

 

String

 

getCity

()




  

{




    

return

 

city

;




  

}





  

public

 

void

 

setCity

(

 

String

 

city

 

)




  

{




    

this

.

city

 

=

 

city

;




  

}





  

public

 

String

 

getState

()




  

{




    

return

 

state

;




  

}





  

public

 

void

 

setState

(

 

String

 

state

 

)




  

{




    

this

.

state

 

=

 

state

;




  

}




}



The general structure of a whereClause query to load a collection of child objects for a specific parent object is:
ParentTableName[ relatedColumnName ].parentColumnName COLUMN-VALUE-CONDITION

Both columns relatedColumnName and parentColumnName must be declared in a table with name of ParentTableName. The relatedColumnName must be a relation column. The table relatedColumnName points to is the table where the objects must be loaded from.  The examples below demonstrate the usage of this syntax:
Find all contacts in a city for a specific phone book¶
StringBuilder

 

whereClause

 

=

 

new

 

StringBuilder

();




whereClause

.

append

(

 

"PhoneBook[contacts]"

 

);




whereClause

.

append

(

 

".objectId='"

 

).

append

(

 

savedPhoneBook

.

get

(

 

"objectId"

 

).

append

(

 

"'"

 

);




whereClause

.

append

(

 

" and "

 

);




whereClause

.

append

(

 

"address.city = 'Smallville'"

 

);





DataQueryBuilder

 

queryBuilder

 

=

 

DataQueryBuilder

.

create

();




queryBuilder

.

setWhereClause

(

 

whereClause

.

toString

()

 

);




List

<

Map

>

 

result

 

=

 

Backendless

.

Data

.

of

(

 

"Contact"

 

).

find

(

 

queryBuilder

 

);



StringBuilder

 

whereClause

 

=

 

new

 

StringBuilder

();




whereClause

.

append

(

 

"PhoneBook[contacts]"

 

);




whereClause

.

append

(

 

".objectId='"

 

).

append

(

 

savedPhoneBook

.

getObjectId

()

 

).

append

(

 

"'"

 

);




whereClause

.

append

(

 

" and "

 

);




whereClause

.

append

(

 

"address.city = 'Smallville'"

 

);





DataQueryBuilder

 

queryBuilder

 

=

 

DataQueryBuilder

.

create

();




queryBuilder

.

setWhereClause

(

 

whereClause

.

toString

()

 

);




List

<

Contact

>

 

result

 

=

 

Backendless

.

Data

.

of

(

 

Contact

.

class

 

).

find

(

 

queryBuilder

 

);



---
Find all contacts for the specific phone book where the city name contains letter 'a'¶
StringBuilder

 

whereClause

 

=

 

new

 

StringBuilder

();




whereClause

.

append

(

 

"PhoneBook[contacts]"

 

);




whereClause

.

append

(

 

".objectId='"

 

).

append

(

 

savedPhoneBook

.

get

(

 

"objectId"

 

)

 

).

append

(

 

"'"

 

);




whereClause

.

append

(

 

" and "

 

);




whereClause

.

append

(

 

"address.city like '%a%'"

 

);





DataQueryBuilder

 

queryBuilder

 

=

 

DataQueryBuilder

.

create

();




queryBuilder

.

setWhereClause

(

 

whereClause

.

toString

()

 

);




List

<

Map

>

 

result

 

=

 

Backendless

.

Data

.

of

(

 

"Contact"

 

).

find

(

 

queryBuilder

 

);



StringBuilder

 

whereClause

 

=

 

new

 

StringBuilder

();




whereClause

.

append

(

 

"PhoneBook[contacts]"

 

);




whereClause

.

append

(

 

".objectId='"

 

).

append

(

 

savedPhoneBook

.

getObjectId

()

 

).

append

(

 

"'"

 

);




whereClause

.

append

(

 

" and "

 

);




whereClause

.

append

(

 

"address.city like '%a%'"

 

);





DataQueryBuilder

 

queryBuilder

 

=

 

DataQueryBuilder

.

create

();




queryBuilder

.

setWhereClause

(

 

whereClause

.

toString

()

 

);




List

<

Contact

>

 

result

 

=

 

Backendless

.

Data

.

of

(

 

Contact

.

class

 

).

find

(

 

queryBuilder

 

);



---
Find all contacts where age is greater than 20 for a specific phone book¶
StringBuilder

 

whereClause

 

=

 

new

 

StringBuilder

();




whereClause

.

append

(

 

"PhoneBook[contacts]"

 

);




whereClause

.

append

(

 

".objectId='"

 

).

append

(

 

savedPhoneBook

.

get

(

 

"objectId"

 

)

 

).

append

(

 

"'"

 

);




whereClause

.

append

(

 

" and "

 

);




whereClause

.

append

(

 

"age > 20"

 

);





DataQueryBuilder

 

queryBuilder

 

=

 

DataQueryBuilder

.

create

();




queryBuilder

.

setWhereClause

(

 

whereClause

.

toString

()

 

);




List

<

Map

>

 

result

 

=

 

Backendless

.

Data

.

of

(

 

"Contact"

 

).

find

(

 

queryBuilder

 

);



StringBuilder

 

whereClause

 

=

 

new

 

StringBuilder

();




whereClause

.

append

(

 

"PhoneBook[contacts]"

 

);




whereClause

.

append

(

 

".objectId='"

 

).

append

(

 

savedPhoneBook

.

getObjectId

()

 

).

append

(

 

"'"

 

);




whereClause

.

append

(

 

" and "

 

);




whereClause

.

append

(

 

"age > 20"

 

);





DataQueryBuilder

 

queryBuilder

 

=

 

DataQueryBuilder

.

create

();




queryBuilder

.

setWhereClause

(

 

whereClause

.

toString

()

 

);




List

<

Contact

>

 

result

 

=

 

Backendless

.

Data

.

of

(

 

Contact

.

class

 

).

find

(

 

queryBuilder

 

);



---
Find all contacts for a specific phone book where age is within the specified range¶
StringBuilder

 

whereClause

 

=

 

new

 

StringBuilder

();




whereClause

.

append

(

 

"PhoneBook[contacts]"

 

);




whereClause

.

append

(

 

".objectId='"

 

).

append

(

 

savedPhoneBook

.

get

(

 

"objectId"

 

)

 

).

append

(

 

"'"

 

);




whereClause

.

append

(

 

" and "

 

);




whereClause

.

append

(

 

"age >= 21 and age <= 30"

 

)





DataQueryBuilder

 

queryBuilder

 

=

 

DataQueryBuilder

.

create

();




queryBuilder

.

setWhereClause

(

 

whereClause

.

toString

()

 

);




List

<

Map

>

 

result

 

=

 

Backendless

.

Data

.

of

(

 

"Contact"

 

).

find

(

 

queryBuilder

 

);



StringBuilder

 

whereClause

 

=

 

new

 

StringBuilder

();




whereClause

.

append

(

 

"PhoneBook[contacts]"

 

);




whereClause

.

append

(

 

".objectId='"

 

).

append

(

 

savedPhoneBook

.

getObjectId

()

 

).

append

(

 

"'"

 

);




whereClause

.

append

(

 

" and "

 

);




whereClause

.

append

(

 

"age >= 21 and age <= 30"

 

)





DataQueryBuilder

 

queryBuilder

 

=

 

DataQueryBuilder

.

create

();




queryBuilder

.

setWhereClause

(

 

whereClause

.

toString

()

 

);




List

<

Contact

>

 

result

 

=

 

Backendless

.

Data

.

of

(

 

Contact

.

class

 

).

find

(

 

queryBuilder

 

);



---
Find all contacts for a specific phone book where age is greater than 20 and the city is Tokyo¶
StringBuilder

 

whereClause

 

=

 

new

 

StringBuilder

();




whereClause

.

append

(

 

"PhoneBook[contacts]"

 

);




whereClause

.

append

(

 

".objectId='"

 

).

append

(

 

savedPhoneBook

.

get

(

 

"objectId"

 

)

 

).

append

(

 

"'"

 

);




whereClause

.

append

(

 

" and "

 

);




whereClause

.

append

(

 

"age > 20 and address.city = 'Tokyo'"

 

);





DataQueryBuilder

 

queryBuilder

 

=

 

DataQueryBuilder

.

create

();




queryBuilder

.

setWhereClause

(

 

whereClause

.

toString

()

 

);




List

<

Map

>

 

result

 

=

 

Backendless

.

Data

.

of

(

 

"Contact"

 

).

find

(

 

queryBuilder

 

);



StringBuilder

 

whereClause

 

=

 

new

 

StringBuilder

();




whereClause

.

append

(

 

"PhoneBook[contacts]"

 

);




whereClause

.

append

(

 

".objectId='"

 

).

append

(

 

savedPhoneBook

.

getObjectId

()

 

).

append

(

 

"'"

 

);




whereClause

.

append

(

 

" and "

 

);




whereClause

.

append

(

 

"age > 20 and address.city = 'Tokyo'"

 

);





DataQueryBuilder

 

queryBuilder

 

=

 

DataQueryBuilder

.

create

();




queryBuilder

.

setWhereClause

(

 

whereClause

.

toString

()

 

);




List

<

Contact

>

 

result

 

=

 

Backendless

.

Data

.

of

(

 

Contact

.

class

 

).

find

(

 

queryBuilder

 

);