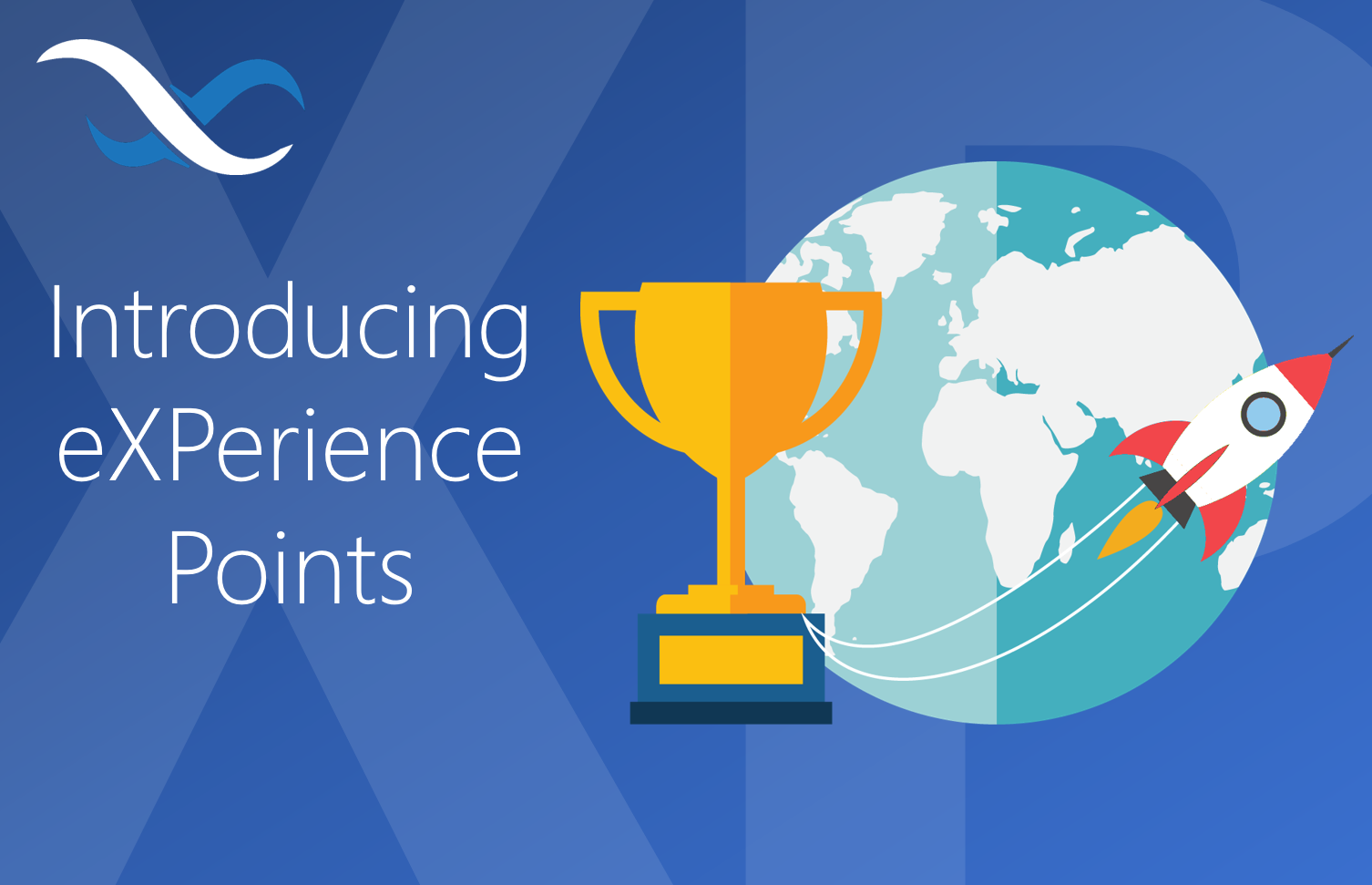 Your mission, if you choose to accept it, is to become a master of the Backendless Visual App Development Platform. Completing "Tasks" in the new Backendless Missions system earns you two primary rewards: Backendless Bucks (BBs) and eXPerience Points (XP). In this article, we dive into the latter.
If you're not yet familiar with Backendless Missions, we recommend you start by reading our introduction to the new Mission system first. Missions are an integral part of the Version 6 release. Missions are not required for use of the Backendless Platform.
The goal of Backendless Missions is to provide a fun, engaging means for you to learn the Backendless Platform. Each task you complete will familiarize you with another element of the platform.
About Backendless XP – The Basics
When you complete tasks – required for completing missions – you earn two forms of rewards: Backendless Bucks (BBs) and eXPerience Points (XP).
BBs are the primary currency used in the Backendless ecosystem. BBs can be used for anything from unlocking the Springboard Plan to paying for your paid plan to buying swag. (BBs can be used to reduce the cost of items in the new Backendless Shop.)
XP, on the other hand, are a means of measuring your mastery of the platform. Each time you complete a task, you receive XP. As your XP grows, you will "level up" and unlock cool new features.
Currently, XP earned from each task ranges from 50 to 300*, with the difficulty of the task determining the XP reward. We will be adding additional missions in the future to cover more Backendless features. (*XP range is subject to change.)
Check it out: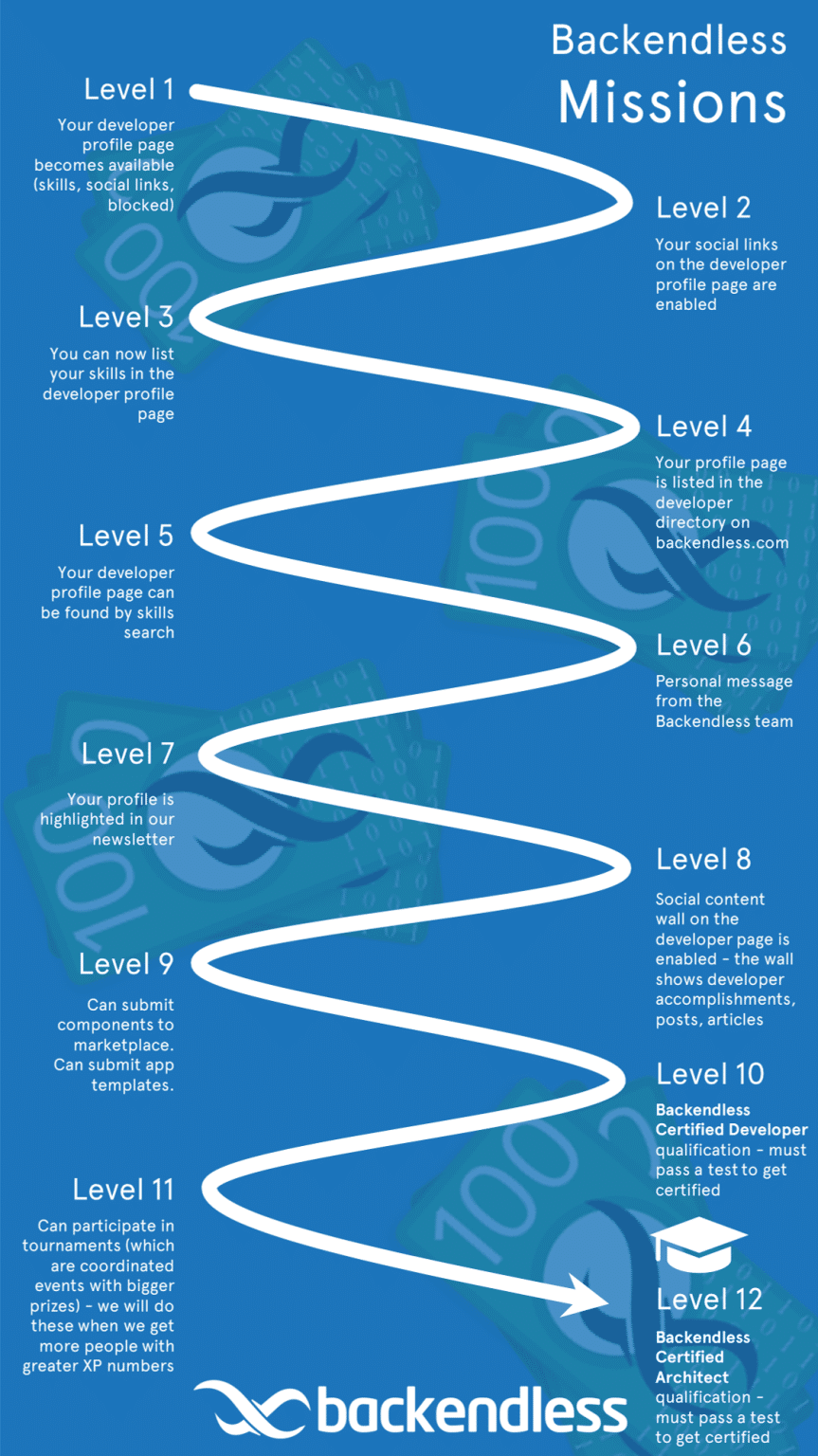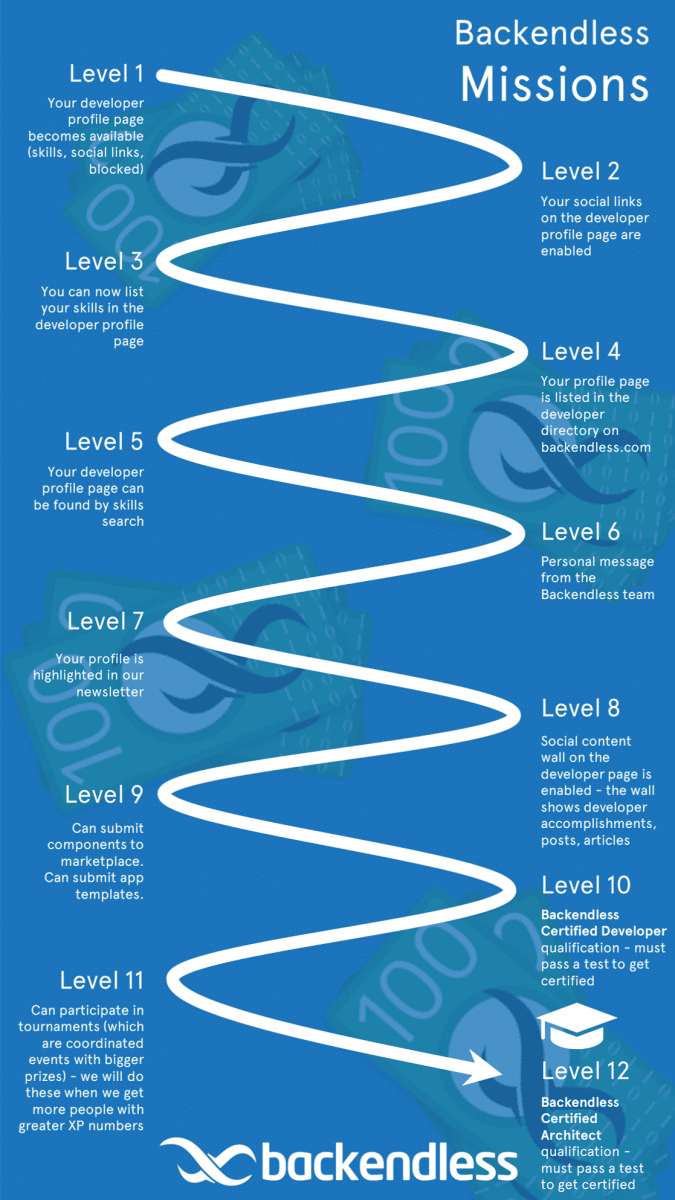 Unlock Cool Features
With each new level you reach in Backendless Missions, you unlock cool new stuff. Check out some details about each item below.
Developer Profile Page
Every developer that reaches at least Level 1 will receive their own personal developer page. (Check out this example.) The purpose of your developer profile page is to give you a platform to show off your Backendless projects.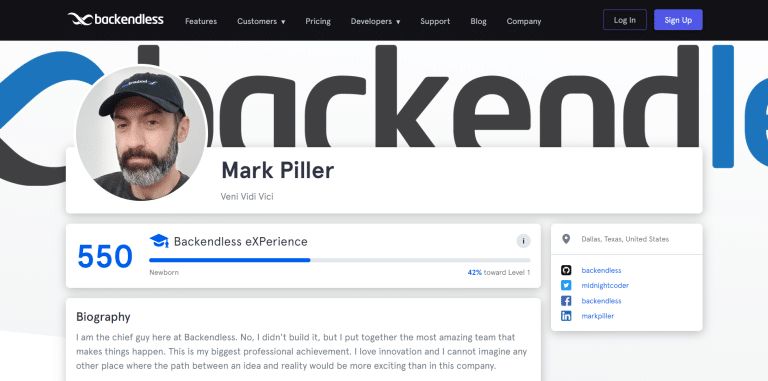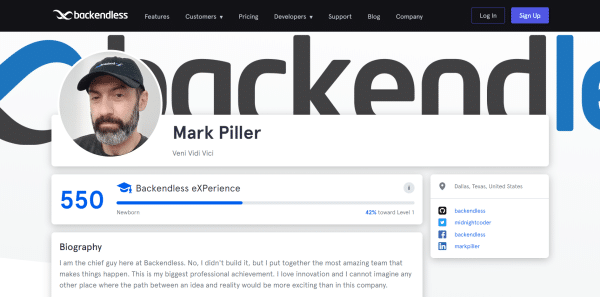 As you level up, you will be able to add more and more to your profile, such as:
Social links enabled including Twitter, LinkedIn, and GitHub (Level 2)
Add skills to your developer page (Level 3)
Become listed in the Developer Directory, discussed next (Level 4)
Developer Directory
One of our goals with the creation of individual developer profiles is to help you, the developer, showcase your work. At Level 4, you officially join the Developer Directory, making your profile publicly discoverable.
You may wonder why we chose to hold this item back to Level 4. Our goal is to protect the value of the Developer Directory by ensuring that inexperienced users and users that choose to abandon their app not congest the listings. That way, employers, hiring managers, and the like are able to know that the developers they look at are dedicated and active.
In fact, at Level 5, we make it even easier for potential employers or clients to find your profile. Upon reaching this level, your profile becomes discoverable by a skill-based search of the Directory.


Whatever your background and intentions with your app, your Profile can be a useful tool for gaining visibility. Here are a few use cases where your Backendless Profile becomes invaluable:
Starting your own freelance business – Show off everything you've built with Backendless, along with your skills and achievements gained by using the platform. Make it easy for clients to see that you know what you're doing by showing off what you've done.
Beefing up your resume – For new and experienced developers alike, the Backendless Profile provides a clear example of your skills. Linking to your Profile in job applications or on your resume itself provides employers with a quick snapshot of everything you've done with Backendless.
Launching your own startup – Demonstrate your Codeless coding prowess to potential investors. Your Profile acts as proof that you are familiar and experienced with the platform you're using to build your world-changing app.
Personal Shout Out
Mastering Backendless is a big accomplishment, and we want to congratulate everyone that puts in the time to develop their expertise. At Level 6, we will send you a personalized message from the Backendless team.
At Level 7, we go one step further by sharing your success with thousands of like-minded developers in our monthly newsletter!
Contribute Articles, Components & App Blueprints
Once you reach Level 8, we recognize that you are one of the most knowledgeable members of the Backendless community. As such, you can now share on your Profile "wall".
Your wall is much like on other social sites: you can share articles, blog posts, accomplishments, and more. You can also share assets that you create for the community.
Upon reaching Level 9, you gain the ability to contribute to the Backendless Marketplace. Assets you can build and submit (and sell!) for the Marketplace include:
Become A Backendless Certified App Developer
When you reach Level 10, you will gain access to the (yet-to-be-released) Backendless Certified Developer test. Upon reaching Level 12 – the highest achievable level so far – you will gain access to the (yet-to-be-released) Backendless Certified Architect test.
More information on Backendless certifications is coming soon. Stay tuned!
Backendless Competitions & Tournaments
#BackendlessHackathons coming soon!
---
Conclusion
Like many features released in Version 6, Backendless Missions are only going to expand. That means more challenges, more premium features, and, of course, more rewards!
To accept your mission and get started on your Backendless journey, click here to get started.
Happy Codeless Coding!