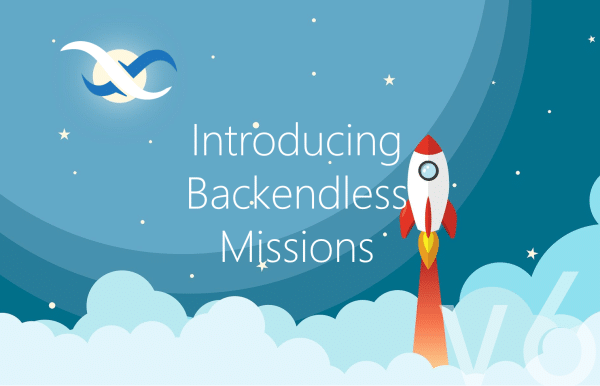 Backendless Missions are the fun, challenging new way to learn app development with the Backendless Platform. Each mission you complete gives you rewards such as Backendless Bucks, experience points (XP), and Achievement badges.
With the release of Version 6, you will notice that the Backendless Platform now has three distinct sections: Backend, Frontend, and Missions. The Missions section is where you will find Backendless Missions.
Missions are the first step in the Backendless Learning Path that ends with the opportunity to become a Certified Backendless Engineer.
Watch the video below for a quick overview of the gamification system, or read on for more details.
Play to Learn
The purpose of the missions system is to provide you with a fun, engaging means of exploring and learning how to apply the Backendless Platform to build mobile and web applications.
Each Mission is composed of Tasks that encourage you to explore the platform and test your knowledge of Backendless.
Every Task comes with a detailed description of the function you are learning to perform and many have a video tutorial to offer further instruction.
Completing Tasks is how you progress through Missions. Completing a Mission moves you further along the path – from left to right – unlocking additional Missions and Tasks that dig deeper into the features of Backendless so you can gain valuable knowledge about building highly-scalable apps.

As you complete Tasks, you will gain Experience Points (XP) and earn Backendless Bucks (BBs – described in more detail below).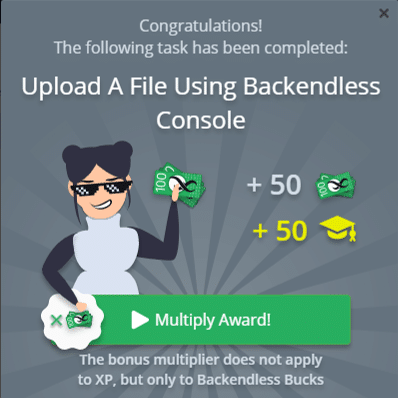 You will also unlock achievements – badges that signify your accomplishments within the Platform.
Achievements can be earned both through successful completion of Tasks and Missions as well as by performing additional tasks like inviting a friend to join Backendless.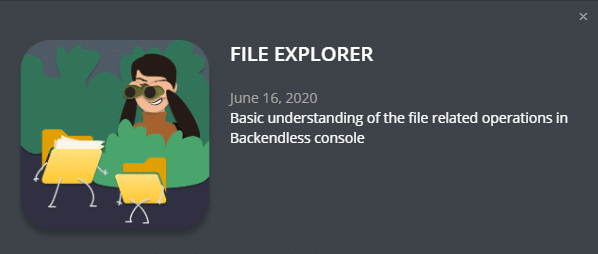 As you level up, you will also unlock new abilities, such as unlocking your own customizable profile page, free swag, and entry into special events.
Play for Rewards
Glory and accolades are not the only reasons to play Backendless Missions, however. Perhaps the best reason to complete Missions is to earn Backendless Bucks (BBs).
BBs have a wide variety of uses within Backendless. BBs can be used to:
Upon completion, you will have the opportunity to increase your earnings by sharing a post on social media or answering a trivia question about Backendless. Bonuses range from 2x to 10x the initial reward!
Below, you can see what you unlock as you reach each level of experience:

Earn More BBs
Backendless Bucks can be earned in other ways besides completing missions. For example, you can present about Backendless at a meetup or conference, write a review about Backendless, or share about Backendless on social media.
Check out the full table below:

Become Backendless Certified
We wanted to give you something special to recognize those users that really go above and beyond when tapping into the rich features of Backendless. Not only that, but we wanted it to be something that demonstrates your expertise in a professional manner.
That's where the idea of Backendless Certifications came from. You will be able to proudly display your mastery of the full Backendless Platform when you pass the certification tests.
Upon reaching Level 10, you will be eligible to become a Backendless Certified Developer. To achieve this title, you must pass a certification test (coming soon).
Additionally, when you reach Level 12, you will be eligible to become a Backendless Certified Architect. This certification also requires you to pass a certification test (coming soon).
---
We hope you'll find this new feature beneficial in becoming more familiar with the Backendless Platform before you dive into building your app.
Thanks for reading and Happy Coding!