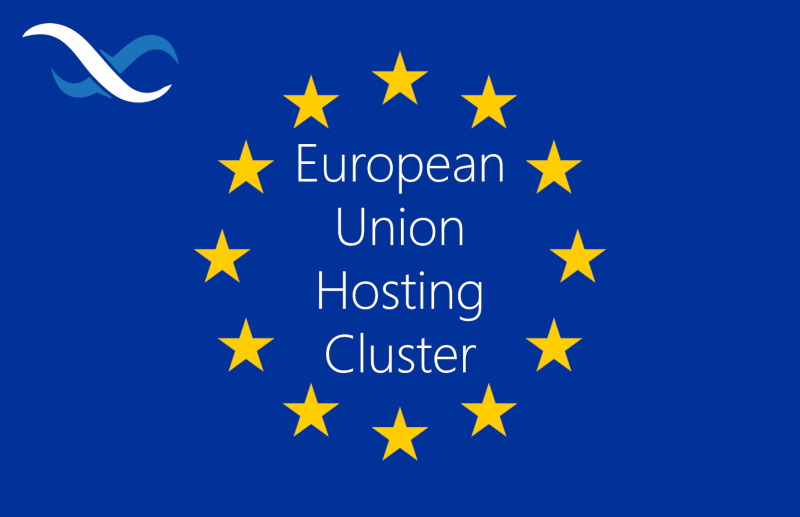 The Backendless European Union Hosting Cluster is a server cluster located in Europe. This new cluster provides Backendless Cloud developers outside of the United States a faster serverless app hosting alternative.
Since the General Data Protection Regulation (GDPR) took effect in May 2018, it has been mandated by the European Union that all EU user data be stored on a server that runs in the EU.
The EU cluster is the perfect solution for those planning to make their app available in the EU or have regional customer base that would benefit from the reduced latency.
While the servers are located in Europe, your app will be hosted in the cloud, meaning you can still develop from anywhere in the world. This new cluster can be selected when creating a new app and offers a faster cloud experience for those geographically located closer to the E.U. than the U.S.
All of the data, users, files, etc., that you store in your Backendless application will be hosted in the zone that you choose. See below for Frequently Asked Questions, or you may contact us if you have additional questions.
Not only is server location important for data storage, it can also impact your app's speed. The speed at which your backend data and logic communicates with the client's device can be the difference between a lifelong fan of your app and a 1-star review.
Previously, Backendless Cloud users had been limited to a U.S.-based server location. This meant that app speeds may have seemed slower for developers and users on the other side of the world.
The European Union Hosting Zone for Backendless Cloud gives you the ability to locate your servers closer to your team or your end users. Depending on where you and your user base are located, the result may be a demonstrable speed increase for your app.
Selecting A Hosting Zone
Each time you create a new app in Backendless, you will see the following popup: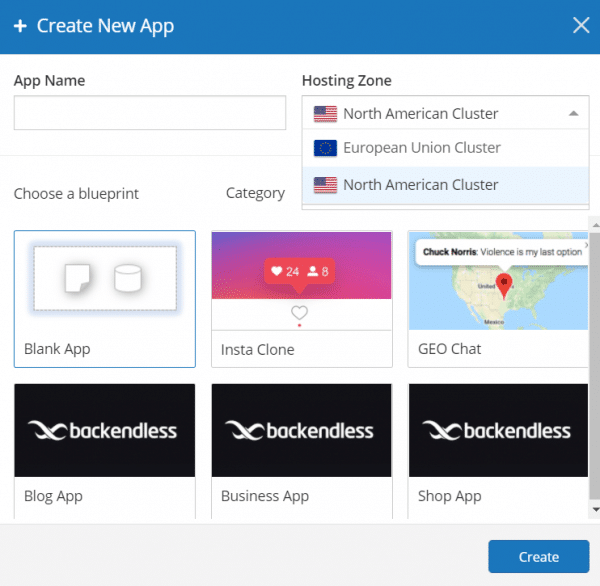 You are given the option to choose the North American Cluster or EU Cluster. Choose wisely, however, as changing your server hosting zone once the app is created requires assistance from our team and is subject to an administrative fee.
Frequently Asked Questions
Is there a way to change my chosen cluster after I've created an app? Say you set up your app with the North American Cluster because your development team is in the U.S., but your app is a hit in Eastern Europe. Can you change to the EU Cluster at that time?

We can migrate the application between US and EU zones for an administrative fee.

I'm on a pre-Version 6 app and didn't choose a cluster when I signed up. Can I choose a cluster now?

No, the hosting zone can be chosen at the time when the app is created. If you need your application to be migrated between the zones, contact our support and we will be happy to do it for you (administrative fee applies).

I'm located in Asia/South America/Australia; which cluster is best for me?

It really depends on where the majority of your users are. Contact our support to get specific addresses of the servers so you can test the speed and see for yourself where you get a better response time.

I'm on Backendless Cloud but would like my own custom server setup. What are my options?

Your best options are either Managed Backendless or Backendless Pro. With Managed Backendless, we set up a dedicated cluster for your app/company. With Backendless Pro, you can run Backendless on your own servers. Either way, we are happy to help establish servers on whichever continent works best for you (additional fees may apply).