In this edition of Backendless Spotlight, we look at a company with the motto "Retire the Résumé". FindReps uses an innovative new approach to connect salespeople with manufacturers looking to get their products in front of buyers.
FindReps uses two mobile apps to connect manufacturers to salespeople in the medical equipment sales market. Salespeople use the NewLines app (available for iOS and Android) to create a profile showcasing their sales history and product portfolio.
Manufacturers, using the FindReps app (available on iOS), post product opportunities looking for qualified candidates. The manufacturer then reviews submitted anonymous profiles until they identify candidates that they want to contact.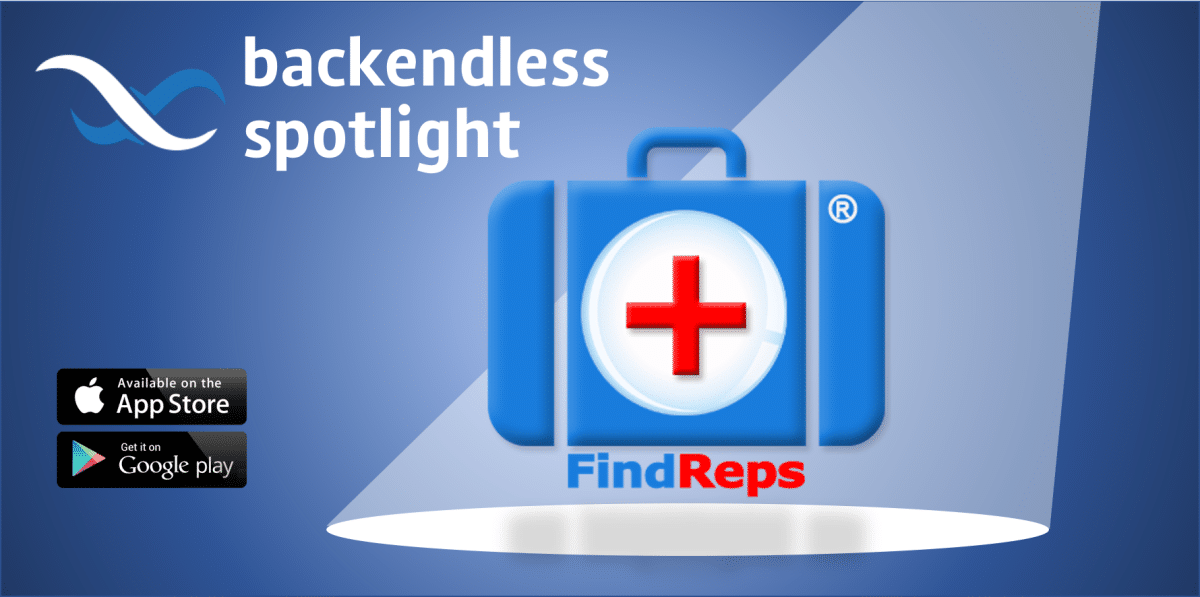 Editor's Note: If you or someone you know have an app using Backendless and would like to be considered for a future Backendless Spotlight, we want to hear from you! Send us an email with a link to the app or website and a description of how Backendless has helped them be successful.
About FindReps
Initially envisioned as "Uber for sales reps", the product has developed into a sophisticated recruiting application. FindReps uses a double-blind model that they call the Mutual-Matching system in which neither party has the others' information until a connection is made. This protects both parties from potential discrimination concerns.
The FindReps apps use a "swipe left/right"-style approach similar to apps like Tinder. The reps review the opportunities available on NewLines (without knowing who the manufacturer is) and swipe yes or no to each. When a rep swipes that they are interested in an opportunity, the manufacturer is delivered the rep's anonymous profile to review and see if it's a fit.
Sales reps use the NewLines app completely free of charge. If a manufacturer likes the anonymous profile of an interested rep, they can use FindReps' in-app currency called RepCoins to purchase the rep's personal and contact information. The cost for a given rep's information varies based on a proprietary algorithm that adjusts based on factors such as the rep's track record, demand, and portfolio.
Keeping Users Connected Through Backendless
FindReps utilizes a number of Backendless' features to facilitate the process of connecting sales rep candidates with manufacturers. Like many Backendless users, FindReps leverages Backendless' User Service API and Database to register, store, and manage user profiles.
For most businesses, adding new personnel comes with a sense of urgency. The medical sales industry is no different, which is why companies expect to get instantly notified when a qualified candidate shows interest. Backendless helps make this process fast and smooth.
First, Backendless Database refreshes data in real-time, meaning that as soon as a rep swipes yes to a product opportunity, this information is updated in the FindReps backend database. Then, using publish-subscribe messaging and push notifications, the company offering the opportunity is immediately notified of the action.
FindReps also uses Backendless to track manufacturers' in-app currency balances. Currently, all purchases are processed through the Apple App Store.
FindReps stores their most sensitive information, such as manufacturers' opportunities, on on-premises servers that do not run the Backendless platform. They then use Backendless to track a token related to those opportunities, allowing the systems to work together harmoniously.
Reason For Selecting Backendless
We spoke with FindReps' co-founder Rick Cataldo, who helped create the company after a career in medical sales. In his experience, Cataldo has found that Backendless offers all of the features that they need while also providing ample space for future scaling.
FindReps began with Backendless back when the platform was still at version 3, coming over around the time of the Parse shutdown. Regarding push notifications, Cataldo stated, "You guys really did that right." He loves the way Backendless push notifications are facilitated in an easily repeatable way.
Future Plans
FindReps believes that they are merely scratching the surface when it comes to connecting sales reps with businesses that have products to offer. While the company is currently focused on medical equipment and devices, they envision expanding into many other industries in the future.
Additionally, the company is exploring innovative new blockchain-based "smart contracts" that could revolutionize the sales industry. Cataldo indicated that as the company grows, they expect to eventually graduate from Backendless Cloud to Backendless Pro for an on-premises solution.
Finding good sales recruits can be like looking for a needle in a haystack. Thanks in part to Backendless, FindReps lets sales managers say, "Keep the haystack, just show me the needle."
---
Thank you for reading!