In this edition of the Backendless Spotlight, we visit with the creator of a unique new messaging app startup with a humorous slant. PuppetChat takes the concept of filters seen in many social apps and turns it on its head, allowing users to put their voice to a real physical puppet.
PuppetChat proudly states that they are the only puppet video maker on the planet. The app is available now on the Apple App Store and Google Play.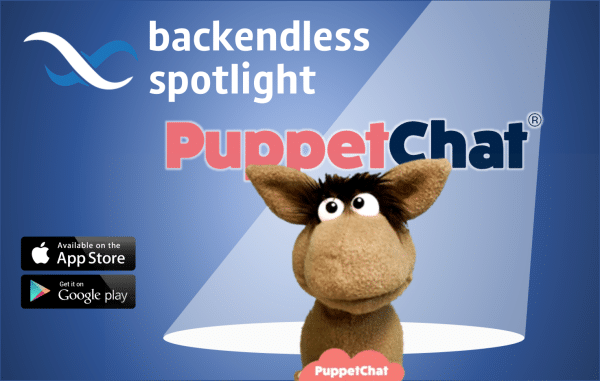 Editor's Note: If you or someone you know have an app using Backendless and would like to be considered for a future Backendless Spotlight, we want to hear from you! Send us an email with a link to the app or website and a description of how Backendless has helped them be successful.
About PuppetChat
PuppetChat was born 2 years ago when Sean Butler and his brother came up with the idea to replace filters and digital avatars – as seen in Snapchat, Instagram, etc. – with a real, physical puppet. The app allows users to record a message up to 30 seconds long and have it acted out by a robot-controlled puppet of their choosing. Let's listen to Butler explain:
The puppets are housed in a facility the team affectionately calls their "puppet call center." Each puppet has its own green screen and robot puppeteer, of sorts. In the future, the company intends to add additional puppets (they currently have 20, with 10 additional puppets scheduled to release soon). This allows the user to put their chosen puppet in virtually any scenario they choose. The team has also added voice changer options for further customization and hilarity.
Startup Focusing on the Big Picture
PuppetChat is a startup operation with a small team, and that means they have many limitations including time and money. For Butler, this means it's critically important that they find the most efficient way of doing things. With a model such as theirs – requiring both the construction and maintenance of an app as well as the engineering of robotic puppets – there's a lot of work to get done.
With that in mind, Butler didn't want to spend a lot of time on the backend – that is, the nuts and bolts of the app that users never see. He knew he needed to make sure the user interface as well as the puppet automations worked perfectly, or else users would never give the app a second glance.
Butler explored other mobile backend as a service (MBaaS) options such as Firebase but found that Backendless was by far the best value for the money. The PuppetChat team uses Backendless for user management, data storage, and database management, business logic (both custom and timers), and file storage and management. This includes storage the video files that users create.
"Backendless is pretty awesome! It provides by far the most API calls for the money." – Sean Butler, Founder of PuppetChat
From MVP To Launch
Backendless is ideal for startups that are just getting going. The platform's ease of use makes it very easy to assemble an initial proof of concept, then a minimum viable product (MVP), and finally a full, market-ready app.
While Backendless has all the features an app could ever need, it is also easy to use just the features that are required while knowing that you still have plenty of room to grow. When the time comes, additional team members can be added seamlessly and the app owner can utilize permissions to ensure access is properly limited.
---
Backendless focuses on speed and ease of development and deployment, critical for independent developers. With Backendless Cloud, you can get your project off the ground immediately, for free.
Thank you for reading!