This week, the Backendless Spotlight again travels to another part of the globe to introduce you to a company looking to help people explore the rich cultural heritage of India. Exploritage is an app for Android that provides a step-by-step, narrative audio guide for tourists visiting India. The app uses "original, authentic and detailed information" to tell the story of many of India's greatest landmarks.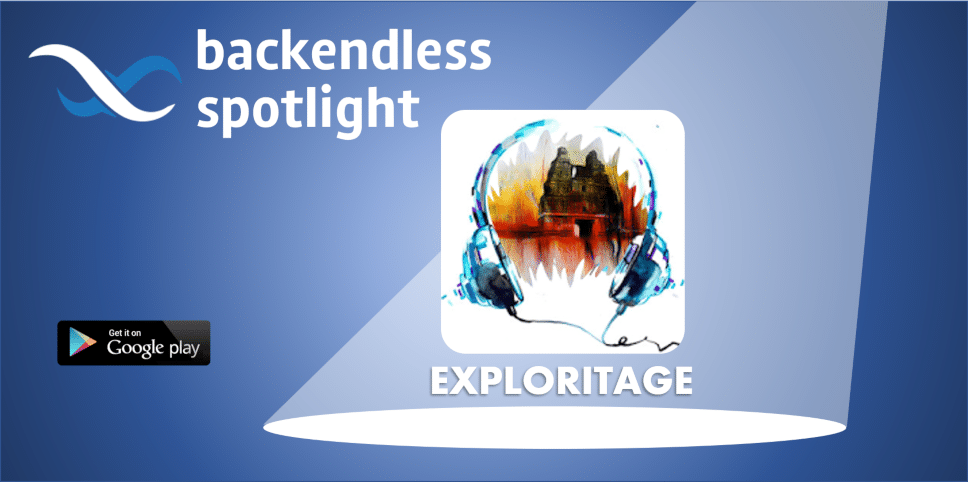 Editor's Note: If you or someone you know have an app using Backendless for its backend and would like to be considered for a future Backendless Spotlight, we want to hear from you! Send us an email with a link to the app or website and a description of how Backendless has helped them be successful.

About Exploritage
Exploritage wants to make guided tours much more affordable. The tour guide industry is notorious for taking advantage of foreign travelers. People looking for guidance through monuments, landmarks, and temples in foreign countries have limited information about what a tour should cost. Adding in currency conversion, it's easy for a tourist to spend far more than necessary on a tour. With Exploritage, travelers can purchase audio guides for their preferred destinations in advance, allowing them to enjoy self-guided tours at a fraction of the cost.
Since many of the destinations are remote and have limited or no access to the internet, Exploritage allows you to download all of your purchased content directly to your device. This way, you don't have to worry about internet connectivity to access your maps, audio guides, and photos for the site. The app has no limitations on your access to the content for the location, meaning you can replay the audio as many times as you like.
Backendless as a Content Management System
Exploritage is able to deliver on their promise to customers because of its ability to store and deliver large media files. Backendless makes it easy for app builders to store large audio files, image files, and other content. That data can then be accessed via API to deliver those files to the client app. Files can be uploaded directly from your client app by API or can be uploaded to the database directly using Backendless Console. While Exploritage is available for Android only, expanding to other platforms is easy. They have the capability to upload and download media to and from any device platform thanks to our universal APIs.
Exploritage's Sandeed Desai explains why they chose to use Backendless:
We did the initial design of the app and had a freelance developer to develop the technology. We did not want to invest heavily in developing the backend so we thought Backendless as our backend for the MVP. We continued with the next version of the app also as Backendless was quite fast and stable. [Because of Backendless], we do not need a dedicated content management team.