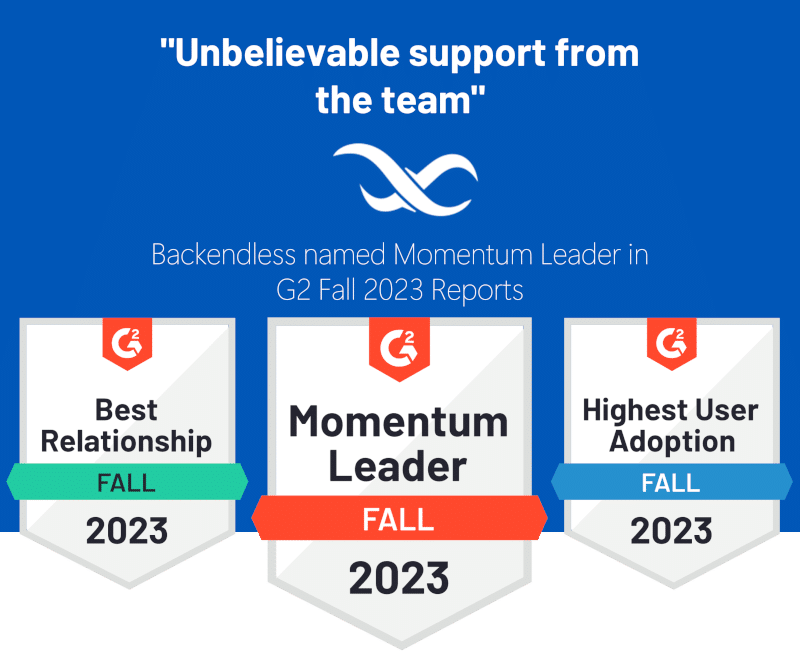 Backendless has done it again, earning an impressive 16 badges in the Fall 2023 G2 reports across key categories like Mobile Backend as a Service (mBaaS), API Management, and Rapid Application Development (RAD).
Most notably, Backendless was named a Momentum Leader in Backend as a Service, showing our continued growth and adoption among developers. We also earned the coveted Best Relationship badge for mBaaS, recognizing our excellent developer support.
Backendless continues to deliver for Small Businesses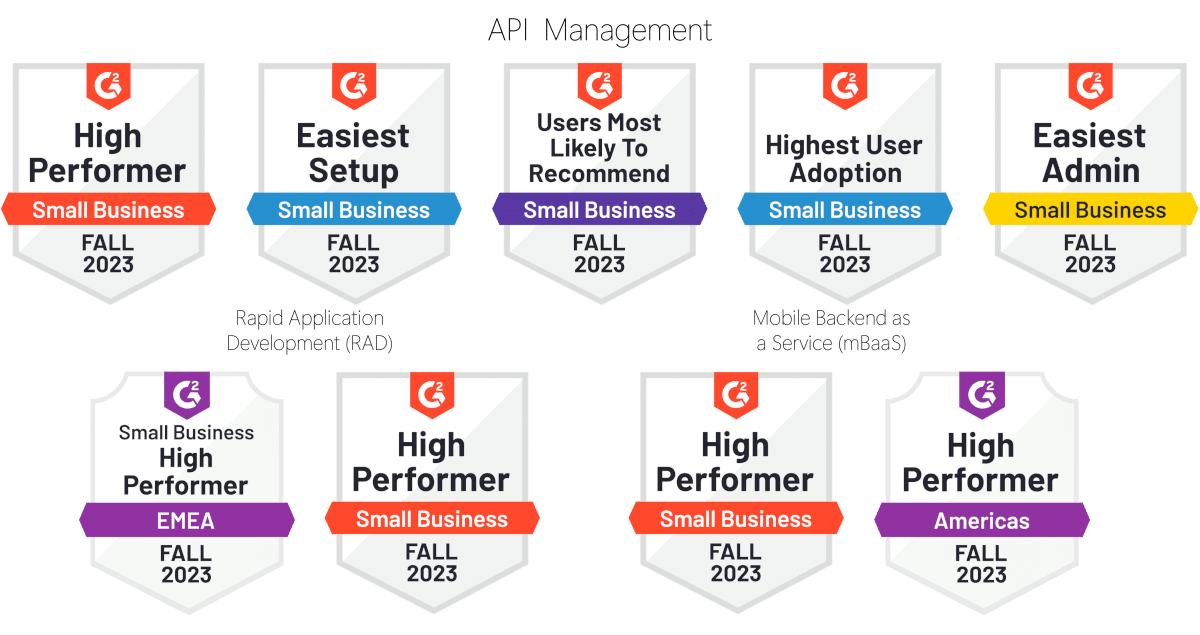 For several quarters now, Backendless has become a mainstay of the Small Business categories, especially for API Management. In the Fall 2023 reports, we are honored to have earned a new badge for the first time ever: Users Most Likely to Recommend. Not only to Small Business users love the platform, but they are eager to tell their peers about it.
Also in API Management, Backendless received badges for Easiest Admin and Easiest Setup for small businesses. We were also named the product with Highest User Adoption overall and for small businesses specifically. These awards demonstrate how easy it is to get started with Backendless and manage APIs.
Backendless earned High Performer badges in mBaaS, API Management, API Design, and RAD (overall and for small businesses). With our continued momentum, we are on track to become a top player in these categories.
For the first time, Backendless has received regional badges as well. New regional High Performer awards include mBaaS for the Americas and RAD for EMEA. This shows Backendless's growing global reach and ability to satisfy customers across geographies.
---
The 16 badges from G2 this season validate Backendless as a leading platform in API management, mobile development, and rapid app building. Our rave customer reviews are what make these awards possible. We're grateful for your support as we continue to evolve the leading mBaaS and API management platform.
Thank you for choosing Backendless as your trusted development partner. Let's build something great!