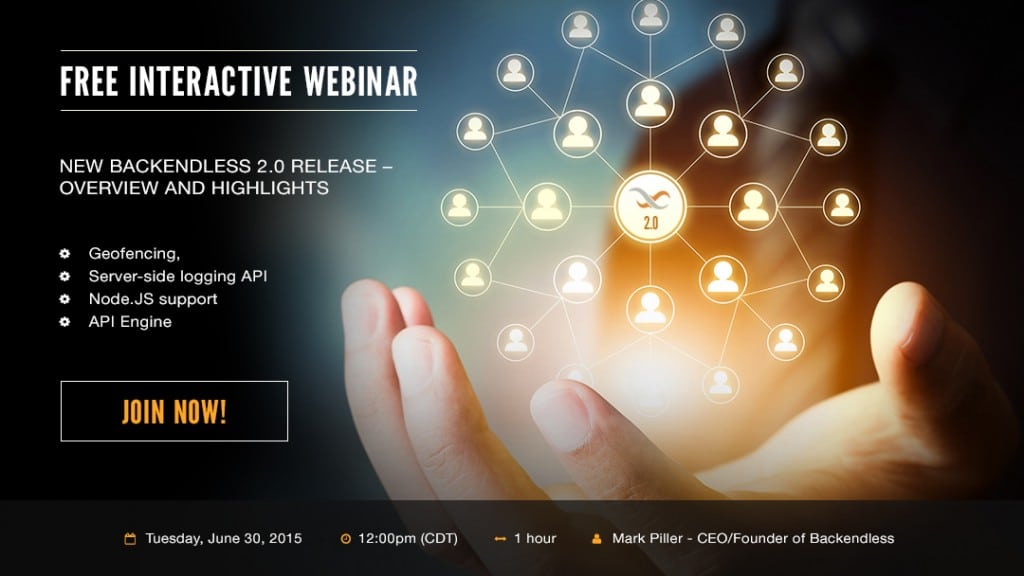 We resume our webinar series with the plan to conduct two webinars a month. The first one is dedicated to the Backendless 2.0 release where you get an overview of the Platform and the new features of the release. Our webinars are interactive and you can ask us any questions.
Join the upcoming free webinar "New Backendless 2.0 Release – Overview and Highlights" and get a detailed look at the new powerful development functionality: geofencing, server-side logging API, node.JS support and API Engine – a powerful API management solution.
The webinar will be useful for mobile app developers of all ranks – from a beginner to a experienced professional – as there will be plenty of tips & tricks to enhance your productivity in mobile application development.
When: Tuesday, June 30, 2015
Time: 12:00pm (CDT)  *to convert the start time for the necessary timezone, use World Time Converter
Duration: 1 hour (with Q&A)
Speaker: Mark Piller – CEO/ Founder of Backendless
NOTE: We are using gotowebinar system to conduct an interactive webinar. This service has a strong desktop / Android mobile service for registration Please use your any desktop or Android mobile devices to register for our event.
If you have any questions feel free to leave your comments or email below this post with any issues you need to be clarified.