We believe that Backendless is great. We know that many developers building with Backendless think so too. This is why we added support for referrals. It is built right into Backendless Console and every Backendless developer got his/her own invite code. There is a convenient way to access the "Invites" page by clicking the "Send an Invite" link:



The Invites and Referrals page is self-explanatory. It shows your own personal invite code and lets you send out an invite to anyone. You do not have to use the invite form, simply share the invite code and ask your developer friends use it when they create a Backendless app: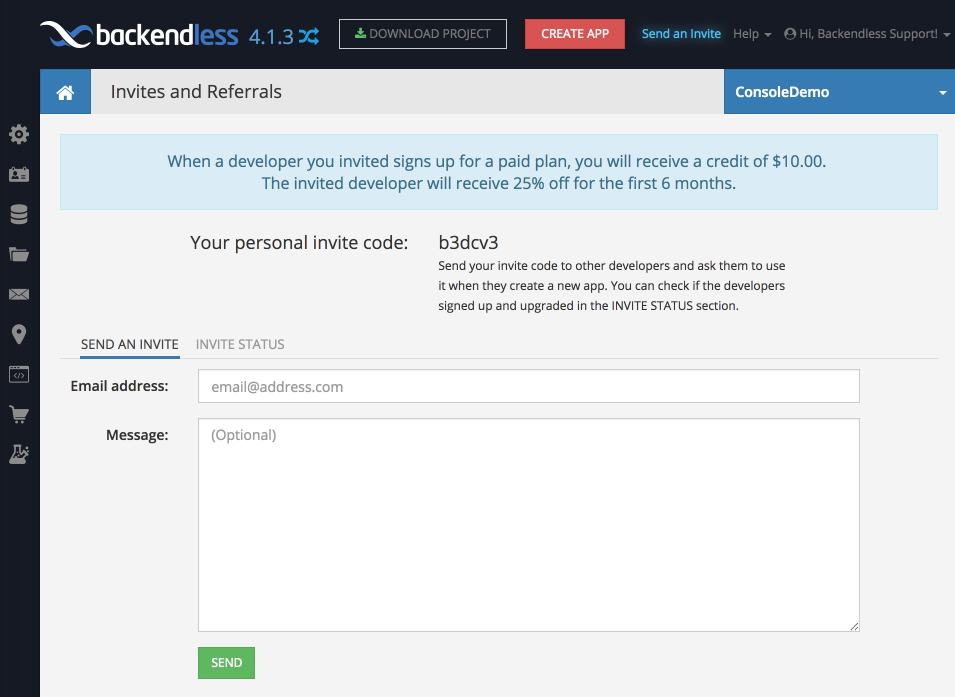 The referral system follows the rules below:
The developer you invite may already have an account with Backendless. If they do not, they would need to register.
An invite code can be entered only at the time an app is being created. The "New App" popup has been modified to allow an invite code.
Invite codes apply only to new apps. You cannot apply an invite code to an existing app.
When a developer you invited upgrades their app to a billing plan, they get 25% off the plan's price for the first 6 months. At the same time, you will get a $10.00 credit for your app, even if you are on the free plan.
The referral discount does not apply to Marketplace purchases.
You (the inviting developer) can accumulate an unlimited number of credits and they will be automatically applied when you upgrade to a paid plan or make a purchase.
That's all, it is a pretty simple system. Spread the Backendless love!