Feature 101: Loading data objects with related geopoints using API
In my previous two posts I described:
Of course both of the operations above can also be accomplished with the API. However, in this post I am going to show how to retrieve a data object which has a related geopoint. Consider the following object:


The Address table has the location column of the GEOPOINT RELATIONSHIP type. There are three data objects in the table and one of them has a related geopoint. The geopoint is shown in the screenshot below.
Notice the geopoint's metadata ( city: NEW YORK CITY ):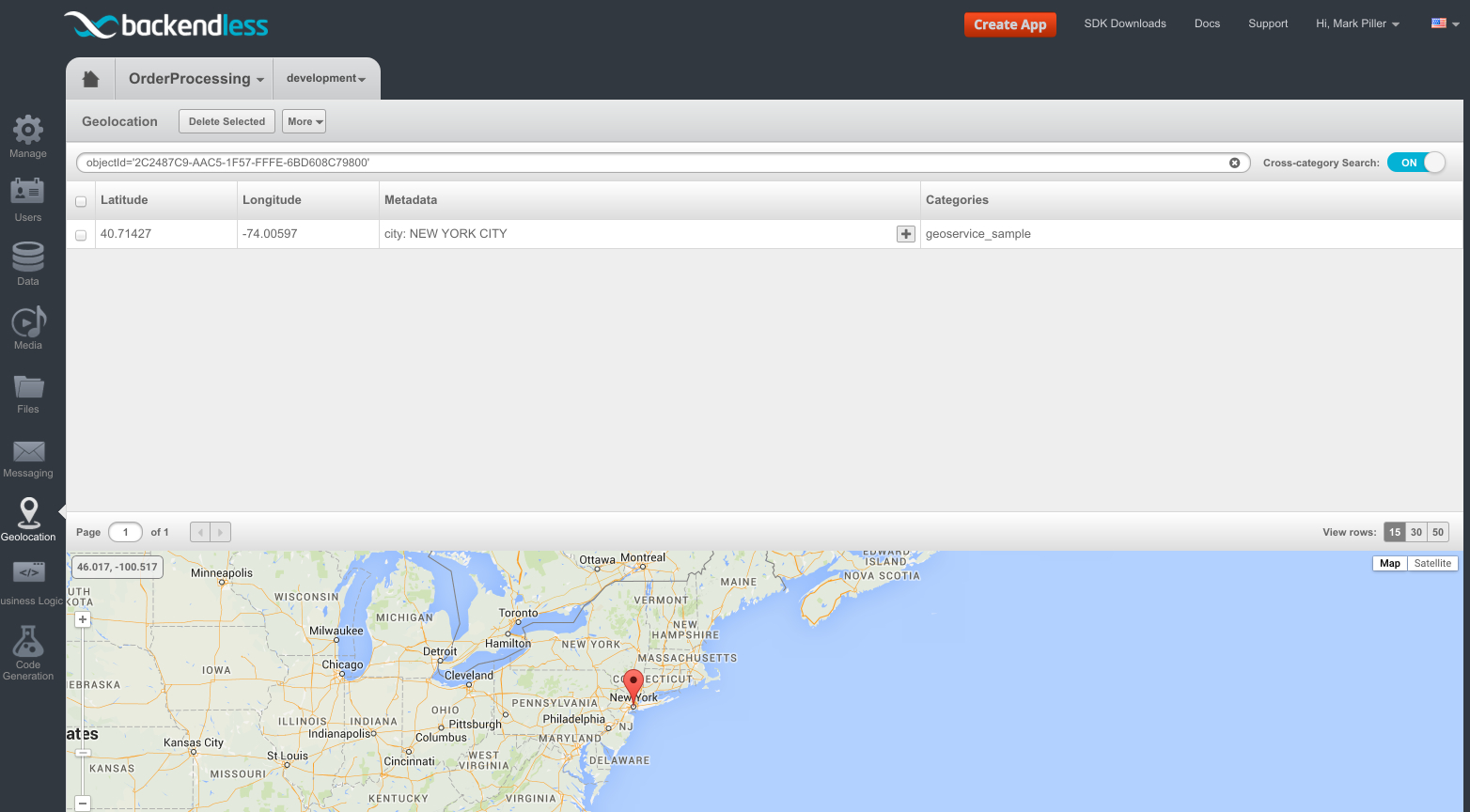 An object from the Address table should be an instance of the following class. The package name is irrelevant – it can be anything, however, what's important is the location column from the table is represented through the com.backendless.geo.GeoPoint class:
package

com

.

mbaas

.

sample

;

import

com

.

backendless

.

geo

.

GeoPoint

;

public

GeoPoint

location

;
The following code retrieves Address objects using an SQL query. Additionally, the query options include a request for the related "location" property. As a result, when the server returns the Address objects, they will have the location property pre-initialized. This approach is described in greater detail in the "Loading related data objects – the 'one-step/dynamic' approach" article:
Asynchronous API sample: (Android and Plain Java):
1

2

3

4

5

6

7

8

9

10

11

12

13

14

15

16

17

18

19

20

21

22

23

24

25

26

27

BackendlessDataQuery

dataQuery

=

new

BackendlessDataQuery

(

)

;

dataQuery

.

setWhereClause

(

"location.city = 'NEW YORK CITY'"

)

;

QueryOptions

queryOptions

=

new

QueryOptions

(

)

;

queryOptions

.

addRelated

(

"location"

)

;

dataQuery

.

setQueryOptions

(

queryOptions

)

;

Backendless

.

Data

.

of

(

Address

.

class

)

.

find

(

dataQuery

,

new

AsyncCallback

<

BackendlessCollection

<Address>

>

(

)

public

void

handleResponse

(

BackendlessCollection

<Address>

nycPeople

)

Iterator

<Address>

iterator

=

nycPeople

.

getCurrentPage

(

)

.

iterator

(

)

;

while

(

iterator

.

hasNext

(

)

)

Address

address

=

iterator

.

next

(

)

;

System

.

out

.

println

(

"City - "

+

address

.

city

)

;

System

.

out

.

println

(

"Location (Geo Point) - "

+

address

.

location

)

;

public

void

handleFault

(

BackendlessFault

backendlessFault

)

System

.

out

.

println

(

"Server reported an error - "

+

backendlessFault

.

getMessage

(

)

)

;
Synchronous API sample (Plain Java only):
BackendlessDataQuery

dataQuery

=

new

BackendlessDataQuery

(

)

;

dataQuery

.

setWhereClause

(

"location.city = 'NEW YORK CITY'"

)

;

QueryOptions

queryOptions

=

new

QueryOptions

(

)

;

queryOptions

.

addRelated

(

"location"

)

;

dataQuery

.

setQueryOptions

(

queryOptions

)

;

BackendlessCollection

<Address>

addresses

=

Backendless

.

Data

.

of

(

Address

.

class

)

.

find

(

dataQuery

)

;

Iterator

<Address>

iterator

=

addresses

.

getCurrentPage

(

)

.

iterator

(

)

;

while

(

iterator

.

hasNext

(

)

)

Address

address

=

iterator

.

next

(

)

;

System

.

out

.

println

(

"City - "

+

address

.

city

)

;

System

.

out

.

println

(

"Location (Geo Point) - "

+

address

.

location

)

;
The program output is:
City - New York

Location (Geo Point) - GeoPoint{objectId='2C2487C9-AAC5-1F57-FFFE-6BD608C79800', latitude=40.71427, longitude=-74.00597, categories=[geoservice_sample], metadata={city=NEW YORK CITY}, distance=null}