In this edition of Backendless Spotlight, we travel down under to take a look at EatClub, an Australian app designed to make dining out more convenient – and less expensive. EatClub encourages you to "eat out, more often" by providing a platform for restaurants to offer last-minute deals on unfilled reservations. Unlike our previous entries which utilize Backendless Cloud, EatClub runs their backend on Backendless Pro, discussed further below. EatClub is available on iOS and Android. You can learn more about them at the EatClub website.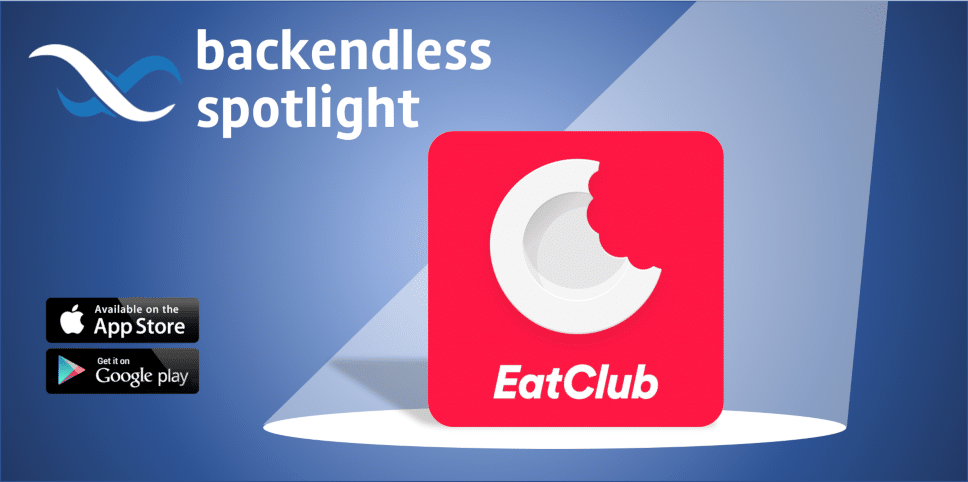 Editor's Note: If you or someone you know have an app using Backendless for its backend and would like to be considered for a future Backendless Spotlight, we want to hear from you! Send us an email with a link to the app or website and a description of how Backendless has helped them be successful.
About EatClub
EatClub, as described by co-founder Ben Tyler, is "a dynamic pricing platform for restaurants. We solve the problem of excess capacity in restaurants by allowing them to alter their prices based on demand. This allows them to fill tables that would have otherwise gone empty, especially during traditional off-peak times."
The result is that consumers get the opportunity to enjoy discounts at great restaurants that may have otherwise been too busy or too costly for them to visit. The restaurants benefit by filling empty tables, and the consumer benefits with lower prices at some of the finest dining establishments in their area.
EatClub was co-founded by celebrity chef Marco Pierre White. The business is seeking to buck the trend in the food industry towards home delivery, arguing that the restaurant environment is a significant part of the dining experience. In less than two years on the market, EatClub has grown to over 300,000 users in four Australian cities and plans to continue expanding.
Backendless Taking You To Scale
In previous Backendless Spotlight articles, we have focused on apps that are using the Backendless Cloud edition of our platform. EatClub, however, uses Backendless Pro to reach their goals. Functionally, Backendless Cloud and Backendless Pro are virtually identical, but for apps with larger user bases – EatClub boasts that over 100,000 people use their app every day – Cloud may not provide the predictability in cost (larger user bases tend to have ebbs and flows in traffic) or the level of support required. Even more importantly, Backendless Pro has none of the limits that Backendless Cloud has.
EatClub uses Backendless Pro to host the software on their own servers, and contracts with our team for 24/7 monitoring and to run their DevOps. Backendless Pro includes premium product support, and the contractual agreement provides them with further hands-on support for their growing business. Rather than relying on our Slack channel and forums – both great tools for early-stage apps – they get one-on-one support from the Backendless team whenever (and sometimes wherever!) it is needed.
For EatClub, server lag was a concern given their location in Australia. Most Backendless Cloud servers are located in the Northern Hemisphere, so EatClub was finding that the geographic distance from the servers was causing loading time delays given their volume of traffic. EatClub and the Backendless team worked together to find a solution and implement it, and the app has run smoothly ever since.
Ben Tyler, co-founder of EatClub, talks about how Backendless has become an integral part of their growing business:
We use almost everything Backendless has to offer, such as server-side business logic, atomic counters, caching, pub/sub messaging. Having the pre-built console to visualize/manipulate our data when needed has been a tremendous help.
Contracting with the Backendless team is like having a member of our team join your staff, but for a far lower cost than hiring a full-time backend developer. Tyler notes that "Backendless has saved us a lot in terms of overhead, staff management, hiring effort, dev ops, maintenance." By taking this approach, EatClub and apps like it can take advantage of the fastest possible response times when issues arise, hands-on support not only when there are problems but also during development, and 24/7 server monitoring and management without the hassle of hiring server support staff or maintaining servers on-site.