Greetings, Backendless users!
We're thrilled to announce a major milestone in our ongoing commitment to improving your experience with our application development platform. Today, we're excited to introduce our brand-new server cluster located in South America!

Bringing the Power of Backendless Closer to You
Our mission at Backendless has always been to provide you with the best tools and services for building incredible applications. One key aspect of this mission is ensuring that our infrastructure is strategically placed to minimize network latency and meet local data privacy requirements. With the addition of our South American server cluster, we're taking a significant step towards achieving this goal.
Benefits of the South American Cluster
🚀 Smaller Network Latency
If you're one of our valued users in South America, you're in for a treat! The South American server cluster is strategically located to reduce network latency, ensuring that your applications run faster and more efficiently than ever before. Whether you're working on real-time applications, APIs, or any other aspect of your project, you'll notice a significant improvement in responsiveness.
🌐 Local Data Hosting for Compliance
We understand the importance of compliance with local data privacy laws. Hosting your data in South America not only provides a performance boost but also ensures that you meet regulatory requirements. This is crucial for applications that handle sensitive user information and ensures that you can confidently build and deploy applications while staying compliant with local regulations.
Seamless Experience, Same Powerful Features
Rest assured, the South American server cluster provides the same robust functionality that you've come to expect from Backendless. You won't have to compromise on features or capabilities. Whether you're using Backendless for authentication, database management, API development, or any other service, you can continue to rely on our platform to deliver.
Getting Started with the South American Cluster
Switching to the South American cluster is easy. Use the hosting zone drop-down in the upper left corner of the interface to select the cluster of your choice: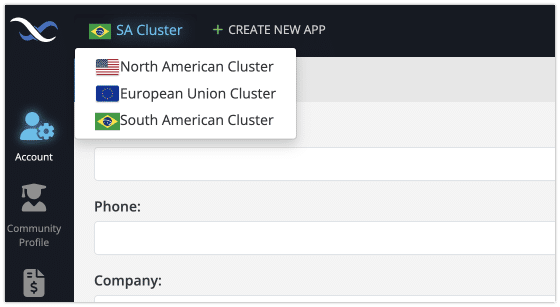 Alternatively, if you would like to navigate to the South American cluster automatically, use the following link: https://sa-develop.backendless.com.
Explore the Possibilities
With our new South American server cluster, the possibilities for your applications are limitless. Whether you're building for local audiences or need to meet specific compliance requirements, this addition to our infrastructure ensures that you have the tools you need to succeed.
We're thrilled to offer this new server cluster to our Backendless community. Your feedback and support have been instrumental in making this expansion possible, and we're excited to continue growing together.
Thank you for choosing Backendless as your trusted application development platform. We look forward to seeing all the incredible applications you'll create with the power of the South American server cluster at your fingertips.
Frequently Asked Questions
Is there a way to change my chosen cluster after I've created an app? Say you set up your app with the North American Cluster because your development team is in the U.S., but your app is accessed the most from South America. Can you change to the SA Cluster at that time?

We can migrate the application between the US, EU, and SA zones for an administrative fee.

I'm located in Asia/Australia; which cluster is best for me?

It really depends on where the majority of your users are. Contact our support to get specific addresses of the servers so you can test the speed and see for yourself where you get a better response time.

I'm on Backendless Cloud but would like my own custom server setup. What are my options?

Your best option is Backendless Pro. With Backendless Pro, you can run Backendless on your own servers. Either way, we are happy to help establish servers on whichever continent works best for you (additional fees may apply).


🇧🇷 Why is the Brazilian Flag Associated with the South American Cluster?

The Brazilian flag represents the location of our South American cluster, which is hosted in São Paulo, Brazil. However, it's important to note that while physically located in Brazil, this cluster serves users not only within the country but across the entire South American continent and globally.The choice of the Brazilian flag symbolizes the central and strategic location of the cluster, ensuring optimal performance and data accessibility for users throughout South America and beyond. So, whether you're developing applications in Argentina, Chile, Colombia, or anywhere else in South America, rest assured that the South American cluster in São Paulo is here to provide you with an outstanding experience.
Happy coding!
The Backendless Team 🚀🌐