In this week's Backendless Spotlight, we would like to introduce you to a nonprofit company that is using Backendless to support educational apps that are bringing literacy to some of the poorest countries in the world. Educators International is a U.K.-based charity that produces apps designed to help teachers in poor countries learn new instructional techniques for teaching math, reading, and other skills. The organization then provides a platform to assist those teachers in assessing their students' progress.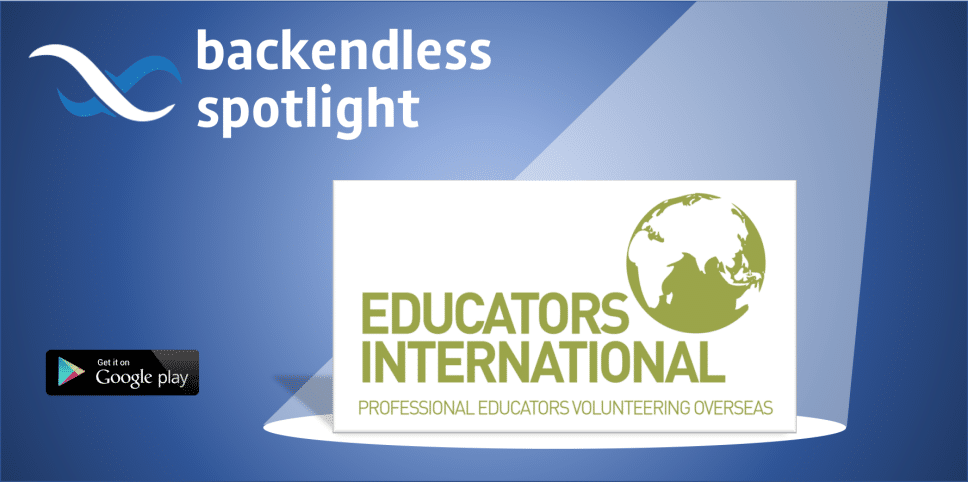 Editor's Note: If you have an app using Backendless for its backend and would like to be considered for a future Backendless Spotlight, please send us an email with a link to your app and a description of how Backendless has helped you be successful.

About Educators International
The purpose of Educators International is to provide resources to teachers in parts of the world where access to teaching supplies is very limited. Despite the economic conditions in many of these countries, smartphones are very common. This provides an opportunity for educational materials to be delivered electronically where physical materials would be too expensive.
Educators International provides instructional apps for teachers to improve their own knowledge and teaching skills. It does so with informative podcasts, and then provides the tools needed to assess their students' growth throughout the school year.
The "mission-critical" app for Educators International is called AssessmentsbyPhone. This app relies on Backendless to support its server-side. AssessmentsbyPhone is free for the teachers. It is an interface that allows them to gather and store assessment scores for their students.
Educators International offers a number of instructional apps as well, such as PhonicsbyPhone. PhonicsbyPhone is customized for the home country of the teacher and is free to download. There are currently nine countries available including Fiji, Ghana, Colombia, and China. You can see the simple yet effective frontend that these apps utilize below.
Bringing Literacy To Underserved Youth
Educators International has created a program that provides educational resources, including expert assistance from their collection of volunteers, to teachers around the world. The organization utilizes Backendless to make it possible, using Backendless databases and server-side APIs to store and analyze student assessment scores. With the automatic scaling offered by Backendless, Educators International can safely grow without straining their limited resources as a nonprofit organization, all while staying within their modest budget.
The apps that Educators International provides to teachers function seamlessly with another innovative technology the organization has created called PhonePrint. PhonePrint is an inexpensive and highly portable printer that connects to any Android device via Bluetooth. With its long-lasting battery and durability, it provides teachers with a tool to print the assessments for the students to take.
Students then complete the assessment in class, and the teacher enters the student's results directly into the teacher's phone. When entered, those results are instantly captured by Backendless so they can be used by the teacher and school administration to help guide future lessons.
Help A Worthy Cause
Educators International is funded in part through the sales of their PhonePrint devices. If you'd like to help their cause and receive a quality portable printer in the process, visit their website at PhonePrint.online. You can also donate directly through Virgin Money Giving.