In addition to the built-in events triggered by the API calls, Backendless supports custom, developer-defined events. Custom business logic code, which is executed on the server-side, can be attached to either built-in events or the developer-defined ones. Custom events can be triggered through a specialized API call from a client library or by other custom business logic. Dispatching a custom event may have event arguments. The server-side code which handles an event may also return a value to be delivered back to the client-side that dispatched the event. This feature can be used to invoke custom business logic from the client-side. Developing custom event handlers is very easy with Backendless – you can register an event using Backendless console, which automatically generates the source code required for declaring an event handler. Just like with the built-in events, custom event handlers can be debugged on the developer machine before the code is pushed to production.
There are a lot of scenarios when custom business logic on the server-side may need to connect to an external host. Whether it is a service call to a third-party service or a retrieving data from a proprietary system, the code must establish a connection to an external host. Up until now if you tried to connect elsewhere except for Backendless' API endpoint, you'd be getting an exception in your custom server-side code – we used to block all hosts. Today we released an update which allows you to connect to any computer located elsewhere. The process of establishing a connection does not change – you can connect to any port using any protocol. However, the hosts to which your connect connects, must be registered with Backendless. We have added a special section in Backendless console, which you can see at Manage > App Settings > External Hosts:

We build and release a lot of software – core service, 5 SDKs and a special utility for custom business logic. We always wanted to visualize our release history to make it easy to navigate through the releases and see how a specific SDK or the core service is evolving. Today we release our release history. You can see it at:
https://backendless.com/backend-as-a-service/release-history/
The system let's you see our progress and the history of changes for everything we develop. Go ahead and play with it and let us know what you think.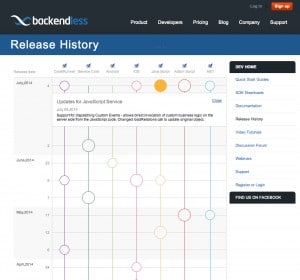 Enjoy!