The pricing table below is for Backendless 4. For Backendless 3 pricing, login to Backendless Console and select Manage > Billing.
Increasing Plan Limits
A limit of a paid plan can be increased by purchasing a corresponding function pack from the Backendless Marketplace. The table below provides the pricing summary for increasing individual limits.
Limit
Price
Additional 600 API calls/minute
Maximum limit is 3000/minute
$100/month
Unlimited custom roles
$20/month
Additional 10 gb
$5/month
Additional 100,000 messages
$10/month
Additional 100,000 push notifications
$10/month
Additional 50 data tables
$25/month
Additional 200,000 data objects
$10/month
Additional 100,000 geopoints
$5/month
Additional 5 geofences
$25/month
Unlimited cloud code scripts
$30/month
Expanded script/code execution time (20 sec)
$10/month
Enhanced timer run frequency (1 second)
$30/month
Expanded Cloud Code deployment size (10 mb)
$10/month
Additional 100 objects in cache
$10/month
Management and Admin API access
$20/month
---
Plan Selection
Selecting a plan for your application can be done using Backendless Console. To select a plan, login to Backendless Console, select your app and click Manage > Billing. Before switching to the Cloud9 or the Cloud99 plans, a credit card must be registered with the application. To add a credit card click the Add Card link and fill out the form.
The Billing interface displays available plans marking the current plan with a checkbox next to the plan name:


The show current usage link is always available for the current plan. It opens a popup that explains the current usage of the backend resources as well as the current plan limits: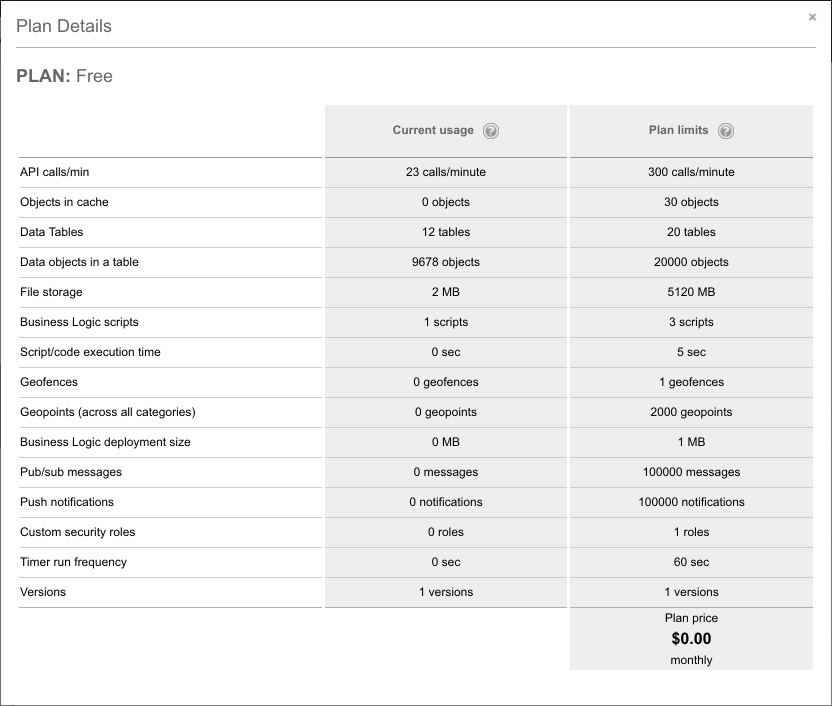 To switch to another plan, click the Select button for the corresponding plan. Console displays a popup providing a plan selection summary. When selecting the Cloud9 or the Cloud99 plan and the current usage of the backend resources is greater than the limits offered by the plan, Backendless selects all additional Function Packs which would be required to cover the overage. The plan selection popup in that case will look similar to the one below. Notice the Additional purchases column which shows the Function Packs which will be purchased when switching to the plan. In this case monthly total is calculated as:
plan price + additional monthly purchases
The example below shows that the application is on the Cloud9 plan and is being switched to the Cloud99 plan. The app has 324 data tables. The new plan offers up to 200 data tables. As a result, the difference of 124 data tables (200-324= -124) is covered through the purchase of 3 function packs (each function pack provides additional 50 tables for $25/month each). The total monthly plan price is shown at the bottom of the popup screen: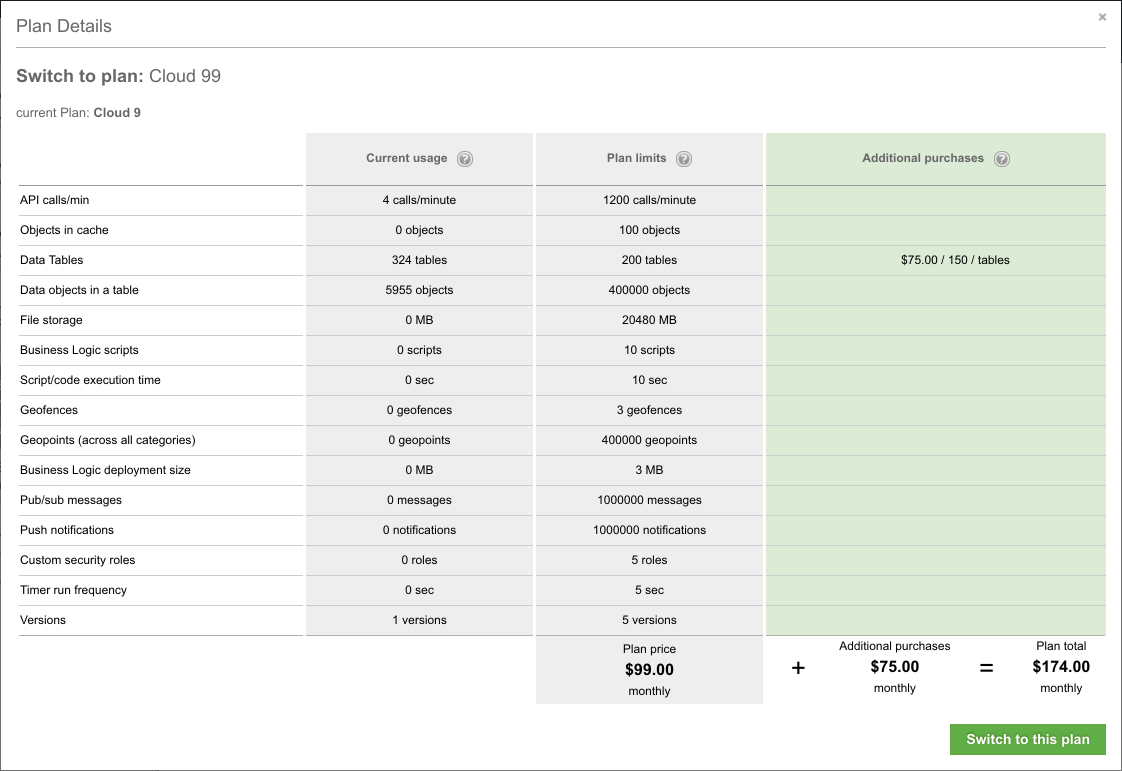 To switch to the plan click the Switch to this plan button.
---
Backendless Cloud Pricing FAQ