Today we are kicking off our newest feature called "Backendless Spotlight". Each week, we will spotlight one published app, available on the Apple App Store, Google Play Store, and the web, that uses Backendless for their server-side functionality and infrastructure.
Our first spotlight will shine on a startup app called YTCount that just recently came to our attention. Read on to learn more about how YTCount has leveraged Backendless to turn a hobby into an app with over 60,000 active monthly users in just 3 years.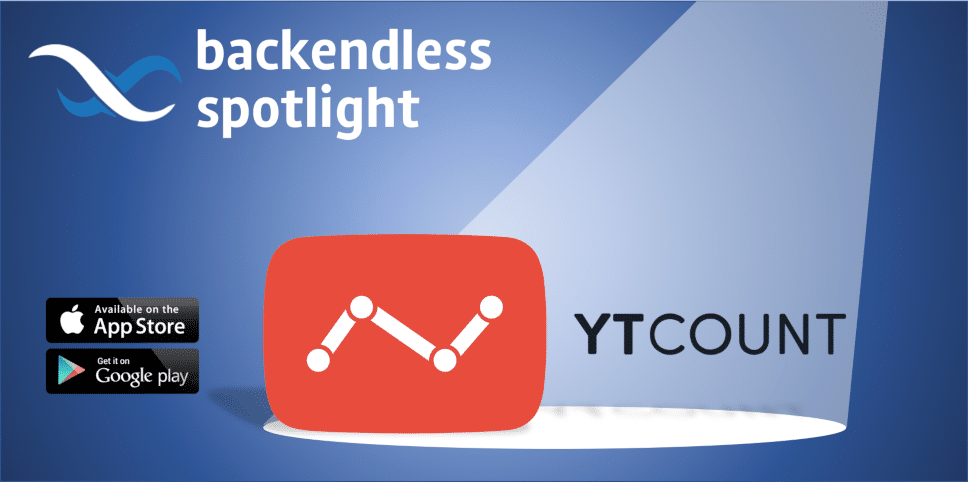 Editor's Note: If you have an app using Backendless for its backend and would like to be considered for a future Backendless Spotlight, please send us an email with a link to your app and a description of how Backendless has helped you be successful.

About YTCount
After starting as a side project just for fun, founder Bjorn Antonissen has grown YTCount to over 60,000 monthly active users on iOS alone. Built with a native Swift frontend and a Backendless backend, YTCount shows the powerful versatility and scalability of Backendless to support a startup from infancy through explosive growth.
Track YouTube Subscribers In Style
YTCount calls itself the app to stay abreast of the growth of YouTube channels. With a live counter, it provides real-time updates on the number of subscribers to a YouTube channel. Whether you are a Content Creator or a fan, you alone determine which channels are important to you.
Taking advantage of the Backendless real-time database capabilities, YTCount shows you real-time statistics for all YouTube channels you choose to track. For YouTubers, this feature enables you to follow and track – live – the subscriber growth of friends, colleagues, competitors, and idols.
Using Backendless's custom push notification functionality, YTCount allows users to stay informed when a channel reaches user-defined milestones with notifications and alerts directly to the user's phone or browser. YTCount stores the stats for YouTube channels that users track, allowing users to see historical data for a channel up to 15 days old (possibly longer for more active and popular channels).
Check it Out for Yourself
YTCount is available for free on the iTunes App Store, the Google Play Store, and on the web at YTCount.com.