About a year ago we made a decision to drop the barrier of entry for Backendless Standalone. At the time when we released the free version of Standalone Backendless, we made a bet that users will go for the "enterprise standard" of server redundancy by introducing a second (non-free) instance and thus removing a single point of failure, increasing scalability and fault tolerance. Unfortunately, the amount of the revenue derived from that model is not sufficient to cover our expenses. We are staying focused though and are dedicated to providing value for Backendless users and customers. In order to maintain the focus and build a better, stronger, more reliable and scalable product, we made a decision to stop the distribution of Standalone Backendless and replace it with a new product called Backendless Pro.
So what will happen next?
Starting today we stopped distribution of Standalone Backendless and it is replaced by a new product called Backendless Pro.
You can install Backendless Pro on your Linux, Mac OS or Windows machine.
You can launch a pre-packaged virtual machine or you can start a cloud instance, right from the browser.
The product does not have any limits which one would experience in the Cloud version of Backendless.
Backendless Pro must be licensed; it means a license key must be purchased for it to run.
If you're not ready to purchase, you can request a trial license.
Without a license key, the product will run for two hours after a restart and will operate in a single-threaded mode.
We offer special discounts for pre-revenue, non-funded startups with less than 3 people in the team.
Support is included with every license of Backendless Pro, including trial licenses.
If you currently use Standalone Backendless, it will continue to run and we will be happy to assist you with an upgrade to Backendless Pro.
If you downloaded and installed the product prior to today and planned to purchase a support plan for your deployment, please contact our sales at sales@backendless.com and we will be happy to work with you. However, without a support plan, we will not be able to provide support for it.
Here are a few Backendless Pro highlights:
Backendless Pro is more scalable out of the box.
Backendless Pro now comes with the formal product documentation.
The product is more production ready for users who care about building stable, reliable and scalable apps.
Customers have more options on how to pay for the product; on-boarding is now even smoother.
Customers deploying Backendless Pro in the AWS environment have an easy way to launch and pay using a familiar workflow (pay-per-use model).
Stephen King wrote in 11/22/63, "Life turns on a dime. Sometimes towards us, but more often it spins away, flirting and flashing as it goes: so long, honey, it was good while it lasted, wasn't it?". I envision that some users of Standalone Backendless will feel that way. If it is going to be of any consolation – it was not our intent to take something away from you. After all, you are welcome to continue using it, albeit I strongly encourage considering Backendless Pro.
I hope you will understand our decision. It was a lesson learnt for all of us. A free, unlimited product was too good to be true. We made every effort to make sure that the new product is better than ever. We hope you will stay with/join the Backendless world and we'll make the future together.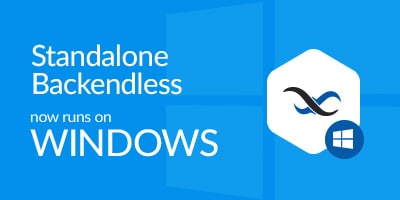 Our vision for Backendless Platform is a system that lets anyone run Backendless-powered apps on any device while the backend can be hosted in any environment. The Standalone Backendless is a special packaging of the platform you can install on your own servers. The best part of it is that you can run Standalone Backendless on a single server without incurring any licensing fees, that's right, single server/VM mode is free.
Initially we packaged Standalone Backendless for Linux and Mac OS X environments, as well as virtual machines for Amazon Web Services, Digital Ocean, VMWare vCloud Air, Google Cloud and Oracle Cloud Platforms. One of the missing pieces was Windows. And it is no more. Starting today you can install the Backendless Platform on a Windows workstation/server and get the entire stack of the Standalone Backendless distribution. This is very exciting for us and I am sure many of you will take advantage of the fantastic opportunities Backendless will bring for your apps. To get started, head on to the Backendless Downloads section on our website and download the Standalone Backendless for Windows installer.
We are happy to announce availability of Backendless installers for the Standalone Edition build. Standalone Backendless is an installation of the product which runs on your own servers, either on-premises or in the cloud. The product comes with a free license for development and production purposes so long that the entire installation runs on the same computer or virtual machine. The product can be easily configured to scale out and include additional instances. In that case a commercial license is required. You can find the download link on the Backendless Downloads page on our site.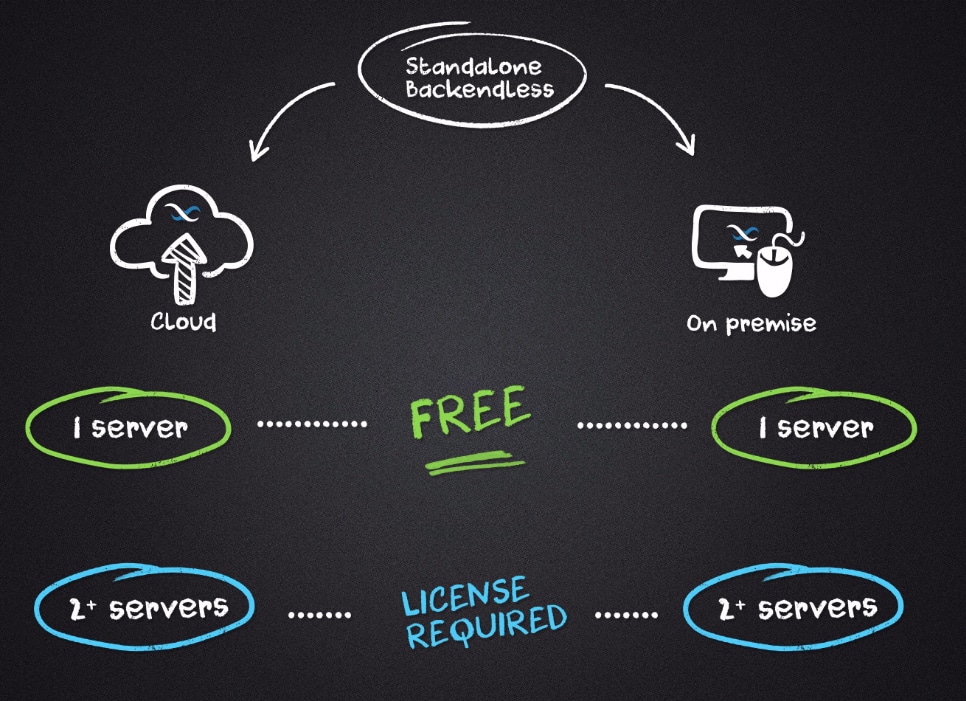 Enjoy!