We assume you are familiar with what Backend as Service (BaaS) is, if not, we recommend starting there.
Enterprise BaaS is a variation of the Backend as a Service concept, one that addresses specialized requirements typically found in enterprise application development. These requirements may be driven by the reluctance to adopt a cloud-based service, industry regulations requiring to have tighter control of the customer data or the complexity of integration with the existing infrastructure, legacy or enterprise (CRM, ERP, SCM) systems.
Specifically, an Enterprise BaaS platform must be able to address the following constraints:
Data security – a requirement to maintain user and application data within the boundaries of the IT organization.
Tighter resource/process control – a scalable application is a complex machinery involving numerous administrative tasks such as pro-active system monitoring, allocating (or deallocating) computing resources, controlling data flow, guarding the system from malicious attacks and so on. These apply to the enterprises with mission critical apps or anyone wanting an additional sense of security.
Cost control – most BaaS systems are available on subscription basis. In some cases an alternative licensing approach might be more beneficial. For instance, traditional fixed-priced enterprise licensing models may be more predictable and attractive from the budgeting perspective.
Integrations – an enterprise application may consist of multiple layers of systems, data sources, workflows and processes. A mature Enterprise BaaS must be able to naturally and seamlessly integrate into such an infrastructure to support new types of application interfaces.
Deployment Modes
Depending on how critical the constraints above are, an Enterprise BaaS platform can be deployed in one of the following modes:
Cloud Enterprise Backend

– the backend system is deployed in the cloud utilizing hardware and software resources allocated exclusively to the enterprise. The platform must feature fault-tolerance mechanisms at all layers of the architecture, provide automatic scaling of the computing resources, implement intelligent request routing, backup.

On-Premise Enterprise Backend

– this mode is similar to the cloud-based backend, except the system runs on the organization's premises. Additionally, any internal IT resources (data sources, user identity management system, message brokers or ESBs) become available for the BaaS platform to tap into for the integration purposes.

Hybrid Enterprise Backend

– a distributed BaaS platform with some components running on-premises and others in the cloud.
Enterprise Integrations
A general purpose backend system must expose client-side APIs for core services.
The what is Backend as a Service article illustrated these services as the following: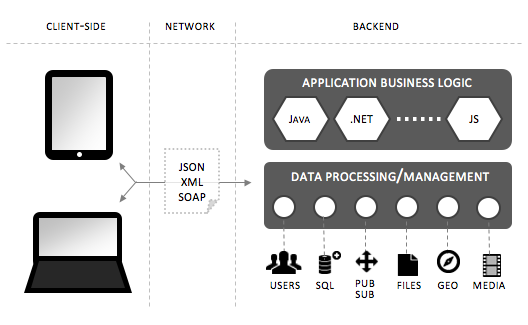 In the context of enterprise application development the concept of the services in the "Data Processing/Management" section is defined through integrations with existing systems. For instance, the user service which is responsible for user registrations, logins, user permissions or user role management may need to work with an external user identity management system.
Similarly, the data service must be able to work with an external data source, which could be an RDBMS or a NoSQL database: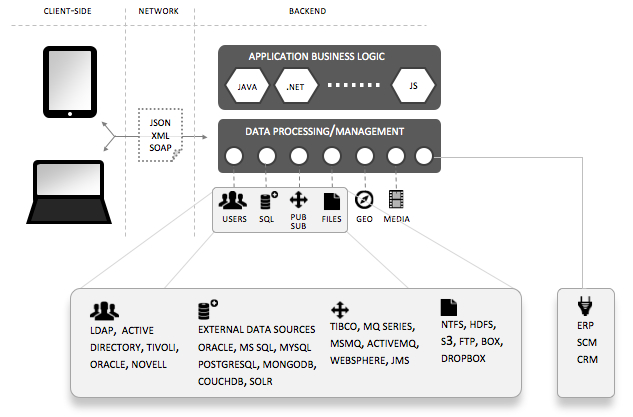 Benefits of integrating Backendless BaaS platform in the enterprise:
Streamlined APIs

for the client-side environments (Android, iOS, JavaScript, Windows Phone, REST), which provide access to all major elements of an enterprise backend. The same APIs can be used to work with new or existing datasets.

Leveraging

existing infrastructure, identity management, data sources, service bus/MQ facilities, file storage and enterprise systems.

API Analytics

provides an insightful view of the usage patterns and demand growth.

Powerful

code generation

facilities for the client-side code enabling instant access to data.

Scalable architecture

with built-in mechanisms to quickly respond to traffic spikes or progressively increasing demand for the backend resources.
The BaaS approach provides significant benefits and advantages including shorter time to market and reduced development costs. We invite you to try Backendless Enterprise and see all the benefits in action.
Start Backendless Enterprise evaluation now.
For licensing inquiries, contact Backendless Sales.
Now