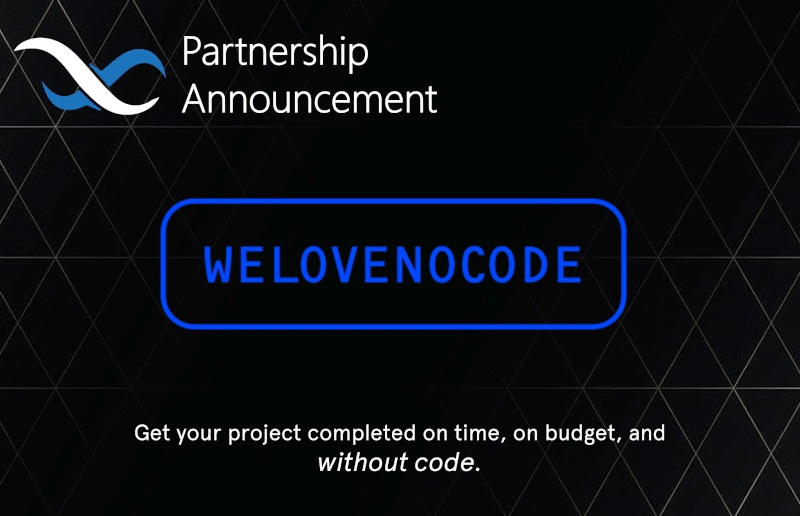 Backendless is excited to announce a new partnership with WeLoveNoCode to offer app development and business automation services built on the Backendless platform.
WeLoveNoCode is a unique service that uses a monthly subscription model to offer unlimited app development and automation "tasks", all built using no-code tools.
Thanks to the inherent benefits of no-code development, and with a team of well-trained no-code developers, WeLoveNoCode clients can create and launch products up to 10 times faster than development teams building with code.
This partnership opens the door for anyone, regardless of their technical expertise, to have their project built on the highly scalable and powerful Backendless platform. When joining WeLoveNoCode, ask for your project to be built on Backendless to ensure you'll get access to Backendless's feature-rich platform.
Projects can be built entirely on Backendless, using the platform's UI Builder and robust backend technology, or they can use the combined power of Backendless with over 100 additional tools in the WeLoveNoCode toolkit.
Adding A New Foundational Tool
Backendless is the only end-to-end app development platform on the market built from the backend up. As such, Backendless has the most flexible, scalable, and feature-rich backend technology to go along with a highly customizable UI Builder.
Additionally, Backendless can integrate with virtually any coded or no-code frontend. Backendless offers over 125 standard APIs and a completely Codeless API builder, enabling any frontend to enjoy the full depth and breadth of Backendless functionality.
For projects that require access to niche third-party services, such as VR, AR, AI, and machine learning tools, Backendless and WeLoveNoCode offer Zapier integration for even more expansive capabilities.
WeLoveNoCode + Backendless = Rapid Iterative Development
WeLoveNoCode's unique approach, a monthly subscription service, gives their users unlimited access to their team of no-code developers to complete as many tasks as the user needs.
This approach allows users to bring projects along at their own pace. Each step can build on the last, enabling users to nurture many small projects or one large project on their timeline.
The time-saving benefit is summed up on WeLoveNoCode's website:
After subscribing you get a NoCode developer who will solve your tasks. For every 10 hours that software developer spends, a Nocode developer will spend only 1 hour. So you will get 10x more tasks done.
Normally, we spend 2-3 weeks to create a mobile app, 1-2 weeks to build a web-app, and a few days we need to create landing pages and automations.
Growing Together
At Backendless, we are incredibly excited to see the awesome projects that get developed by WeLoveNoCode. Feedback and observations made by WeLoveNoCode developers and users will help guide future upgrades and new features for the Backendless platform. These improvements will benefit not just WeLoveNoCode users, but all Backendless users.
Additionally, Backendless opens new avenues for growth for WeLoveNoCode, bringing in a tool that offers the capabilities of a complex coded application without the need for code. Backendless expands further the already wide array of projects that WeLoveNoCode will be able to build for its users.
Give It A Try Today
Whether you're a veteran developer looking for help to move faster or a non-technical entrepreneur looking to build something brand new, WeLoveNoCode plus Backendless is a great place to start. WeLoveNoCode offers new users a one-week trial for $9*, a perfect way to get a taste of the service. In that one week, you will be able to see first-hand how quickly their developers can move to get tasks finished. *Subject to change.
Ask for your project to be built on Backendless when you join to ensure you get all the benefits of the Backendless platform for your project. The team at WeLoveNoCode will guide you through tool selection to ensure that you have all of the tools and resources you need for your projects to be successful.
Ready to get your projects off the ground? Don't delay, join today!